A Gala Celebration of DONALD BYRD
Barbican Hall, London.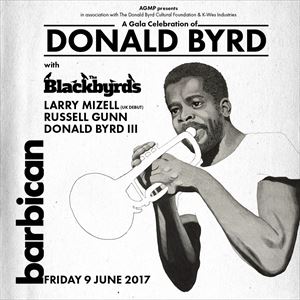 More information about A Gala Celebration of DONALD BYRD tickets
AGMP presents
A Gala Celebration of DONALD BYRD
featuring THE BLACKBYRDS, LARRY MIZELL ( UK Debut ), RUSSELL GUNN, DONALD BYRD III.
AGMP are proud to present A Gala Celebration of Donald Byrd, for 2017 marks what would have been the 85th anniversary of the American jazz titan.

At the beginning of the 70's, the iconic jazz trumpet player Donald Byrd decided to add a novelty element to his music and give it a more funky dimension. In order for this to happen, he put together a band - The Blackbyrds, whose members were his students at Howard University. The Blackbyrds toured and recorded intensively with Byrd from 1973 to 1981. Over the years, The Blackbyrds became legends in their own right, but their contribution to Byrd's catalogue is undeniable. The tribute show will oversee some of Byrds' greatest releases: Think Twice, (Fallin' Like) Dominoes, Places and Spaces, Cristo Redentor, You And The Music, as well as Blackbyrds classics, such as Rock Creek Park, Walking in Rhythm, Happy Music, Do It Fluid and Mysterious Vibes.

The legendary Larry Mizell will be joining The Blackbyrds for this special show honouring the life and legacy of Donald Byrd - a show which will also double up as his UK debut. Larry, alongside his late brother Alphonso Mizell, is responsible for producing a big part of Donald Byrd's catalogue for Blue Note Records (Black Byrd, Street Lady, Stepping into Tomorrow, Places and Spaces, Caricatures), an array of albums that would later define Jazz-Funk and give rise to Acid Jazz and Neo-Soul. Later on, a significant number of songs from these albums will be sampled by some of hip hop's greatest producers: J Dilla, Guru (Gangstarr), Pete Rock & CL Smooth, A Tribe Called Quest, 9th Wonder, DJ Jazzy Jeff, Jungle Brothers.

Performing Donald Byrd's catalogue with The Blackbyrds and Larry Mizell will be trumpeter/multi-instrumentalist Russell Gunn. Known for his contributions to Wynton Marsalis' Blood on the Fields, Gunn also performed with the likes of Jimmy Heath, Roy Hargrove, James Moody, and R&B star Maxwell. In 2007, the trumpeter paid homage to fellow St. Louis, IL, native and trumpet icon Miles Davis with Russell Gunn Plays Miles.

Donald Byrd III, Byrd's own son, and founder of The Donald Byrd Cultural Foundation will be making a special appearance for this gala celebration of his dad's legacy. The mission of The Donald Byrd Cultural Foundation is to support the development of youth through the arts by providing programs that build character, promote social responsibility, and enhance cultural awareness for the community.