Amar Bansi
Paul Robeson Theatre, Hounslow.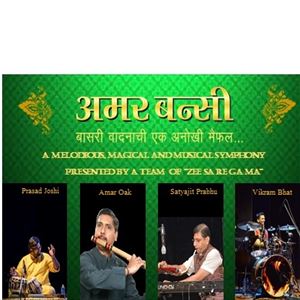 Magical, Musical and melodious symphony by reknowned flautist Amar Oak and the team of Zee Sa Re Ga Ma. An event not to be missied.
More information about Amar Bansi tickets
The team of Zee Sa Re Ga Ma presents the atypical musical treat ' Amar Bansi ' in which one gets to enjoy a variety of flute flavors from the Hindi and Marathi numbers to the title music of various T.V.serials. To add spice to this majestic creativity, the eminent flautist demonstrates a variety of flutes from the largest to the tiniest, leaned with a meticulous elucidation about the presence of 27 flutes in the set.
A brief fusion and a little of classical music in this program becomes an added attraction.This rare event is a sort of ' Infotainment ' especially ornamented for the melody worshiping masses.