Bearded Theory 2017
Catton Hall, Derbyshire.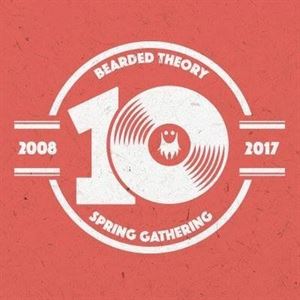 Some of the items for this event require you to have previously purchased a deposit ticket.
Please enter the reference number and email address for the order you placed for the deposit ticket.
Can't find your reference number? Log into our customer service area to see your recent orders.
More information about Bearded Theory 2017 tickets
Carer ticket applications to be taken via the Spring Markets office and any enquiries need to email info@beardedtheory.co.uk with the subject being "MAKE MY LIFE EASIER" Full details on our access procedure are available via http://www.beardedtheory.co.uk/page/accessibility . The disabled person must still buy a ticket from you and send info@beardedtheory.co.uk the booking confirmation email.

Ticket Terms & Conditions

1. Tickets cannot be exchanged, refunded, or returned after purchase.
2. The right of admission is reserved.
3. Management reserve the right to alter or, in the event of adverse weather conditions, to curtail or cancel the performance.
4. Lost tickets will not be replaced.
5. No pets are permitted on site unless used for a disability.
6. No glass allowed on site.
7. Strictly no fireworks, flares, smoke bombs or open fires on site.
8. Management reserve the right to add, withdraw or substitute artists and to vary the programme if necessary.
9. You must cooperate with the challenge 25 alcohol purchasing policy.
10. Bearded Theory will not be responsible for any loss or damage to personal items.
11. No unauthorised sound systems are permitted on site.
12. Gates open at 10am on Thursday 25th May and at 9am on Friday 26th , Saturday 27th & Sunday 28th for standard weekend ticket holders.
13. Public gates shut strictly for entry & re-entry at 8pm Thursday 25th, 9pm Friday 26th & Saturday 27th and 7pm Sunday 28th.
14. All vehicles are liable to be searched, and must be parked in designated areas as directed by car park managing agent.
15. Vehicles parked on the public highway will be towed away.
16. No day tickets are available.
17. Anyone that is caught with a controlled substance will be reported to the Police immediately.
18. Ticket holders consent to inclusion in photographic, visual and audio promotion of the festival.
19. "Chinese lanterns" are not permitted.
20. Unauthorised alcohol sales are prohibited and will result in eviction.
21. ALL child ticket holders must be accompanied by a ticket holding parent or guardian.
22. Child weekend tickets are for anyone within the specified age range on 25/05/2017.
23. All young adults (aged 11 to under 16) MUST camp in the same area as their families with a maximum of 3 teens per adult (over the age of 21).
24. Cars are not permitted in the Live in Vehicle field at the festival unless they are towing a caravan.
25. Event School Limited programme, organise, manage and operate the Festival School & Children Village Activities.
26. Campervans (NOT caravans) are allowed a small 2-man tent alongside your vehicle for children/guests OR a small awning.
27. If the weather is wet, ground conditions in some areas will be puddled or muddy. It is the ticketholders responsibility to be prepared for the ground conditions. Wear clothes/shoes appropriate for ground conditions. In the event of poor weather move around the site with caution.
28. Camping Chairs are only permitted in designated areas and will be removed if they are left abandoned.
29. The use of Drones are prohibited and will be confiscated.