British Triathlon Mixed Relay Cup
Victoria Embankment, Nottingham.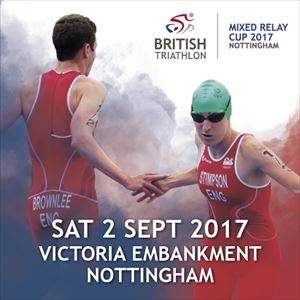 Nottingham will host Britain's newest and most exciting triathlon event on Saturday 2nd September 2017. Featuring top Olympic triathletes such as the Brownlee Brothers and Jodie Stimpson, teams of four athletes will compete against each other at Nottingham's Victoria Embankment. Each athlete will complete a short and fast triathlon before handing over to their team mate for the next leg, all in front of thousands of spectators. Grandstand tickets will give you a prime position to watch the athletes as they swim, cycle and run their way around the course, giving ticket holders an exclusive view of the transition areas, finish line and the final presentations.
Under 14s must be accompanied by an adult. We cannot issue refunds to under 14s who are not accompanied by an adult.
More information about British Triathlon Mixed Relay Cup tickets
Event Terms & Conditions – essential information for all ticket holders.
Please read carefully.


Your ticket is issued to you for the event by British Triathlon & Nottingham City Council (the promoter). Your entry to the venue is by ticket / print@home ticket and constitutes your acceptance of these terms and conditions. We recommend that you retain your ticket as proof of purchase.


This ticket is not transferable. The Promoter may take legal action against you if you attempt to re-sell it near the venue or on any secondary ticketing or auction website or use it as a part of any un-authorised promotional activity.


The Promoter cannot replace lost tickets so please keep your ticket safe. When entering the ticketed area, a wristband will be issued to all ticket holders to enable you to access facilities outside the ticketed area.


The Promoter reserves the right to refuse entry, and will do so if you are under the influence of alcohol or an illegal substance, or for any other reason at our discretion.


This is an all ages event, however all children under the age of 14 years old, must be accompanied by a parent or guardian. All guests over 2-years old will require a ticket.


The Promoter may search all bags. Please note there are no cloakroom facilities on-site.


Admission to the Venue is at your own risk and the Promoter has no liability whatsoever for any loss, damage, death or injury to you or your property which is not caused by its negligence.


The Promoter may change the event's programme, in particular, the day or time of the event, because of unforeseen and unavoidable circumstances. We will advertise change(s) but are not obliged to refund money or offer an alternative.


You are not permitted to bring professional audio visual (including SLR cameras) or audio recording equipment into the venue without the express permission of the Promoter. You consent to the filming and sound recording of the Event as a member of the audience.


Food and beverage items may not be brought into venue, except for one 500ml bottle of water for personal consumption. Food and beverage will be on sale at the event.


Garden chairs, gazebos, BBQ's, fireworks, push chairs, laser pens, flagpoles and other potentially dangerous or annoying objects at the Promoters discretion, are not permitted within the venue.


Animals, with the exception of guide dogs, are not permitted in the venue. Facilities are provided for disabled and people with mobility issues. If you have any special access needs, please contact us.


This ticket is issued Subject to Licence and to the terms of our Premises Licence.


WARNING:


Prolonged exposure to loud music can cause damage to your hearing.


This is an outdoor event, so please be prepared for inclement weather. The event will be staged rain or shine.