Brix & The Extricated
Georgian Theatre, Stockton-On-Tees.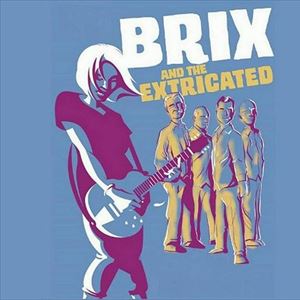 Formed by Brix Smith-Start & Steve Hanley, The Extricated play some old stuff and some new stuff, but it's all theirs.
16s - 18s must be accompanied by an adult. No refunds will be given for incorrectly booked tickets.
More information about Brix & The Extricated tickets
Brix and The Extricated made their debut at The Ruby Lounge, Manchester in December 2014. With Brix Smith-Start on guitar and vocals, Steve Hanley on bass and brother Paul Hanley on drums ('The greatest rhythm section in rock n roll' – Luke Haines), Steve Trafford on guitar and vocals and Jason Brown on guitar, this was a dream line up for lovers of The Fall sound.
Since that debut Manchester gig, Brix & The Extricated have gone from strength to strength. They were quickly snapped up by booking agent Ed Stringfellow (Spider Touring) and have completed two UK tours and performed at a range of festivals. They recorded a BBC6 Music session for their old band mate Marc Riley in January 2016, were filmed for a live TV session for Vintage TV and have recently signed a recording contract with Blang Records. They are due to record their debut album, with John Reynolds producing, in November 2016 with the album due for release in spring of 2017.
What are people saying about the Extricated?
"The key is the new songs and there are many of them in the wings. The new song in the encore is, perhaps, the high point of the set and a real inkling that the best is yet to come – a grinding bass and great vocal this is a great moment that proves that the back catalogue is just the door of perception and the new stuff will be the proof and making of the band."
John Robb – Louder Than War
"Brix's bright yet gritty vocals soar impressively atop the sonic juggernaut driven by Steve Hanley's merciless basslines. New offering "Something To Lose" bodes well for future output. "
Hot Press Magazine, Ireland
"Ex-The Fall's Brix Smith and co are no Fall tribute. The battle-scarred, front-line veterans of rock's toughest tour-of-duty proved themselves the real deal, storming in with US 80s/90s. Brix vocalised with unfettered verve and authority, while the buzzing guitars of Steve Trafford and Jason Brown whipped up a storm. They were more than ably backed by powerhouse rhythm men, Steve and Paul Hanley, who created a savage, almost motorik assault.
New song "Something To Lose" was an exercise in anti-nostalgia. They closed with an unstoppably brilliant New Big Prinz, arguing that this should be their year.
Record Collector Magazine