Cabruera
Nells Jazz & Blues, London.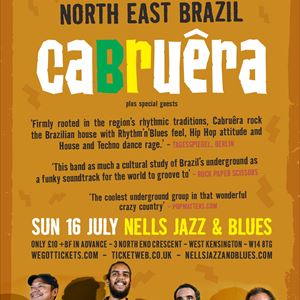 Nells Jazz & Blues
West Kensington,
London.
W14 8TG
Nearest Tube - West Kensington Station (3mins)
Bus - 74, 190, 430, N74 & N97
Taxi - 30 yds
info@nellsjazzandblues.com
More information about Cabruera tickets
They play a fusion of rhythms that unites influences of traditional north-eastern music with African roots together with a twist of rock, funk and reggae and dance. With a vast amount of international recognition they have played in most major and prestigious European festivals such as Roskilde in Denmark, WOMAD and Montreux in Switzerland. The band also composed several soundtracks for national and international films and TV productions.
"Firmly rooted in the region's rhythmic traditions, Cabruêra rock the Brazilian house with Ryhthm'n'Blues feel, Hip Hop attitude and House and Techno dance rage." - Tagesspiegel, Berlin "A full blend of rock, funk, jazz, rap, reggae - you name it, they absorb and regurgitate it in a exhilarating, whipped-up, eclectic mix of all possible worlds. Great musical colors and imaginative production make for an up-beat, quasi-psychedelic experience." - World Music Charts Europe This band as much a cultural study of Brazil's underground as a funky soundtrack for the world to groove to" - Rock Paper Scissors