Camden Rocks Festival 2017
Various Camden Venues, London.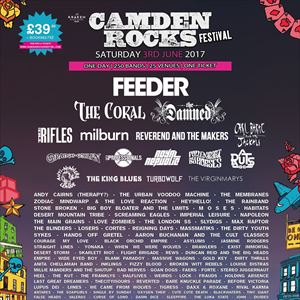 This Festival requires you to exchange your ticket for a Wristband, for exchange times, location and information please Click Here
This event is for over 18s only - No refunds will be issued for under 18s.
More information about Camden Rocks Festival 2017 tickets
See the full lineup and info on the Facebook event at http://po.st/CRF17
or via the website at www.camdenrocksfestival.com
Get ready Camden Town… London's best rock 'n' roll festival is closing in! Join the madness on June 3rd for the UK's biggest all-day multi-venue festival; Camden Rocks Festival, for 250 acts throughout 25 venues. It's going to be manic, it's going to be intimate, and it's sold out every year so grab your tickets! With acts announced including multi-platinum Welsh rock legends Feeder, back off hiatus and better than ever, plus indie-rock legends The Coral, punk legends The Damned & more below.
Announced acts: Feeder, The Coral, The Damned, Milburn, The Rifles, Reverend and The Makers, Carl Barat & The Jackals, Orange Goblin, The Proffessionals, Royal Republic, Pulled Apart By Horses, The Ruts DC, The King Blues, Hey! Hello!, Anti Nowhere League, Andy Cairns of Therapy?, Turbowolf, The Virginmarys, The Urban Voodoo Machine, The Membranes, Zodiac Mindwarp & The Love Reaction, The Rainband, Stone Broken, Big Boy Bloater and the LiMiTs, MOSES, Desert Mountain Tribe, Habitats, Screaming Eagles, Imperial Leisure, The Main Grains, Love Zombies, The London SS, Napoleon, Slydigs, Max Raptor, The Blinders, Losers, Cortes, Colour Of Noise, Reigning Days, MassMatiks, The Dirty Youth, Hands Off Gretel, Aaron Buchanan and The Cult Classics, Courage My Love, Black Orchid Empire, Asylums, Jasmine Rodgers, Straight Lines, Yonaka, When We Were Wolves, Brawlers, Exist Immortal, Desert Storm, SKARLETT RIOT, Flight Brigade, REWS, Duncan Reid and the Big Heads, Empire, Wide Eyed Boy, Blank Parody, Massive Wagons, Gold Key, The Anita Chellamah Band, Dirty Thrills, Inklings, Fizzy Blood, Broken Witt Rebels, Louise Distras, Millie Manders & The ShutUp, Bad Nerves, Goan Dogs, Faers, Forte, Stereo Juggernaut, Heel, The Kut, The Franklys, Halflives, Weirds, Lock, Frauds, Holding Absence, LAST GREAT DREAMERS, THECITYISOURS, Bare Knuckle Parade, Reverted, Before Victoria, Lupus-Dei, Liines, We Came From Wolves, Tigress, Daxx & Roxane, Rival Karma, The SoapGirls, Single By Sunday, Oxygen Thief, CUTE CUTE DEΔTH, Blackwaters, Tiny Giant, False Heads, Valeras, Curse of Lono, Damn Dice, Sleepfire, The Luka State John, Divides, Desert planes, Lucie Barât, White Room, Happy Accidents, Brandy Row, Role Models, Willow Robinson, Only Sun, Drama Club Rejects, Toffees, Tim Muddiman & The Strange, Avalanche Party, Chinese missy, HVMM, Black Sixteen, Yungblud, Kidbrother, Veridian, Secret Cameras, IAMWARFACE, The RPM's, Bexatron, Harker Moon, Mama Moonshine, The Muffin Heads, GØSPEL, Cavalcade, Shea, Will O'Donnell, Matty James Cassidy, Two Year Break, Couples, Lilith And The Knight, Panic Island, Secret Cameras, Via Dolorosa, Glam Skanks, They Uncultured, Nash, Indigo Lo, HCBP, October Drift, Thunder On The Left, This Years Ghost, Berries, Sisteray, Tokyo Taboo, The Distorting Glass, YUNG DRUID, Death and the Penguin, Scoundrel, Overdog, Temple Lake, Rumble Fish, Black Doldrums, Our Propaganda, SERPENTYNE, Salt, Surge, The Alibi and Peter Von Toy more acts still to be announced.
Following a sold-out fifth year in June 2016, Camden Rocks Festival will be hosting over 250 bands and artists across 25 of Camden Town's revered venues this June 3rd 2017, Camden Rocks are also proud to announce that legendary Camden venue KOKO will join the 2017 festival.
Facebook > www.facebook.com/camdenrocksfestival
Twitter & Instagram > @CamdenRocksFest
Venues:
Koko • The Electric Ballroom • The Underworld Camden • Dingwalls • Proud • Camden Assembly • The Black Heart • The Monarch • The Forge • The Crowndale • Dublin Castle • Dingwalls Canal-Side • Bloc Bar Downstairs & Upstairs • The Hawley Arms • The Good Mixer • BrewDog • Be At One • The Devonshire Arms • Belushis • Winnicott • The Fiddlers Elbow • The Lyttelton Arms • The Pack & Carriage • Camden Market Amphitheatre
Save