Celebrating Prince - The New Power Generation
Nells Jazz & Blues, London.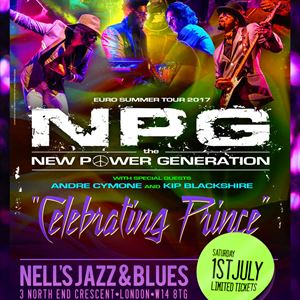 3 North End Crescent
West Kensington,
London.
W14 8TG
Nearest Tube - West Kensington Station (3mins)
Bus - 74, 190, 430, N74 & N97
Taxi - 30 yds
info@nellsjazzandblues.com
More information about Celebrating Prince - The New Power Generation tickets
The New Power Generation – a brief history of "Prince's Best Band" In an early 1991 Prince-penned press release about his new band, the legendary artist wrote that the NPG were "hailed as Prince's best band." Those who knew him also knew that he was always pushing himself and experimenting with new sounds and the musical chemistry of working with new musicians was a part of that process.
For Prince, the name New Power Generation had a deeper meaning than merely a new band. In fact, the label came before the musicians were hired when he wrote the phrase, "Welcome to the New Power Generation" for the opening track of 1988's Lovesexy. But even though he had parted ways with The Revolution in 1986, the New Power Generation (aka The NPG) – Prince's second official backing band - was not formally introduced until the summer of 1990 when they made their live debut on the Nude Tour. They were also mentioned later that year in the film, Graffiti Bridge, when the song, "New Power Generation" was on the accompanying soundtrack album and his enthusiasm was captured in the lyrics.
"Lay down your funky weapon, come join us on the floor. Making love and music's the only things worth fighting 4. We r the new power generation, we want 2 change the world. The only thing that's in our way is u. Your old fashioned music, your old ideas, We're sick and tired of u telling us what 2 do." ( Prince )
Andre Cymone and Kip Blackshire join the New Power Generation during the Summer of 2017 as vocalists for their tour dates titled, Celebrating Prince.
NPG LINE UP:
Morris Hayes, Keyboards & Musical Director
Kirk Johnson, Drummer
Tommy Barbarella, Keyboards
Sonny Thompson, Bass
Mike Scott, Guitar
Tony Mosley, Rapper, Guitar, Dancer
Damon Dickson, Percussion, Dancer
Andre Cymone (singer)
Kip Blackshire (singer)