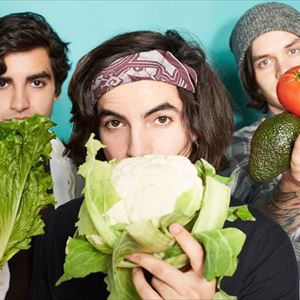 14+ only. 14s to 15s must be accompanied by an adult. No refunds will be given for incorrectly booked tickets.
More information about CHON tickets
With support from - Yvette Young
Underneath a canopy of electronic-tinged soundscapes and tapestries of lush guitar mastery, you can practically feel the Southern California coast come to life on CHON's second full-length album Homey [Sumerian Records].

Following the success of 2015's Growand worldwide touring with everyone from Periphery and Animals As Leaders to Circa Survive, the instrumental quartet—brothers Mario [guitar] and Nathan Camarena [drums] and Erick Hansel [guitar]—returned home to San Diego in the summer of 2016 to begin work on what would become their next musical offering. For the very first time, they rented a rehearsal space a stone's throw from the ocean, and the beachside locale's influence courses through 12 virtuosic and vibrant new musical movements.

The Garage takes the needs of disabled customers very seriously and actively encourages people of all abilities to attend the events scheduled at their venue. Though built in Victorian times, the building has been modernized to allow wheelchair access via front of house to the Ground floor level
(please note there is no direct backstage disabled access).Due to licencing and Health and Safety Assessments, we regret the number of wheelchairs that we can admit to the building is limited. In order to ensure that all disabled patrons to The Garage are adequately catered for, we request that prior to booking all disabled customers contact the venue (thegarage_boxoffice@mamaco.com) in advance of ticket purchase to explain the nature of their disability. On the evening of an event, we do advise disabled customers to arrive at the venue 15 minutes prior to doors, ideally accompanied by a companion over 18 years old who will be admitted free of charge.The free companion ticket is available to patrons who are registered disabled. Both the ticket to be paid for and the free companion ticket needs to be booked in advance. You can book the standard ticket through any ticket seller. Please email thegarage_boxoffice@mamaco.com for specific requests, enquiries or comments regarding access/personal needs and a memb

(thegarage_boxoffice@mamaco.com, 020 7619 6721) in advance of ticket purchase to
explain the nature of their disability. On the evening of an event, we do
advise disabled customers to arrive at the venue 15 minutes prior to doors,
ideally accompanied by a companion over 18 years old who will be admitted
free of charge.

The free companion ticket is available to patrons who are registered disabled. Both the ticket to be paid for and the free companion ticket needs to be booked in advance.

Please email thegarage_boxoffice@mamaco.com or phone 020 7619 6721 for specific requests, enquiries or comments regarding access/personal needs and a member of our team will endeavor to accommodate such requirements