Christmas Chamber Concert
Duna Palota, Budapest.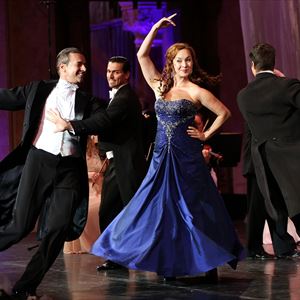 Danube Palace Zrínyi Street 5., 1051
More information about Christmas Chamber Concert tickets
Spend Christmas Eve at a chamber concert in the beautiful neo-baroque theater of the Danube Palace. Hear a special program assembled by the Danube Chamber Orchestra just for the occasion.
The chamber concert begins at 20:00 with an intermission between the two 40-45 minute long concert parts.
Mozart, Liszt or Gershwin with a Hungarian cimbalom and a symphonic orchestra? Outside Hungary, it may sound unusual , but in Hungary, this has been a popular tradition since the 19th century. When played together, particularly beautiful sound combinations occur. Make lasting memories in Budapest and have fun with the most beautiful classical melodies á lá hongroise!
One of the orchestra's signatures is the inclusion of traditional Hungarian instruments, like the cimbalom. The cimbalom gets its sound from padded bats and has been equipped over time with a massive frame for denser sound, more strings for multiple tones and a damper pedal for better control of the dynamics.
After the concert, a hostess will accompany you on a half-hour journey on the ship the Danube at night. (if option selected)