Dance 88 / 89
Sankeys, Ibiza.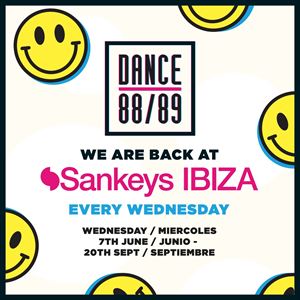 More information about Dance 88 / 89 tickets
When Ibiza veterans talk of the halcyon days of the island scene, they are referring to the period between 88 and 89 when the acid house and Balearic phenomenon broke out of the island and spread across the rest of the world.

These two DJs will take on the Wednesday night in Sankeys in 2017, launching on the 7th of June and running untill the 20th of September. With more than a nod to days gone by, the duo will be joined by two other guests each week. It's a chance for some to take a nostalgic trip through some of the defining music of the early dance scene and for those that are too young, to get an insight into where their beloved scene came from.



You can expect some pioneering names throughout the season including the Balearic master DJ Alfredo, Just Be aka Bushwacka!, Clara Da Costa, acid house originator DJ Danny Rampling, the award winning Judge Jules, Graeme Park, drum & Bass godfather Grooverider, Mr C, 1989 Summer of Love's Nicky Holloway and many others yet to be announced.