Definitley Might Be
Robin 2, Wolverhampton.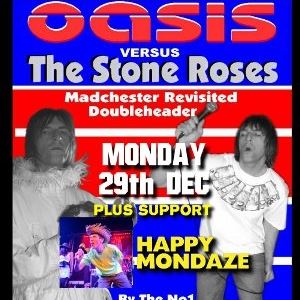 August Bank Holiday Sunday special - Madchester Revisited Double Header featuring
No under 14s in the standing area, 14 - 17s must be accompanied by an adult. No refunds will be given for incorrectly booked tickets.
More information about Definitley Might Be tickets
+ support
"Drummer sacked!". "Liam leaves America tour early". "Noel retires from overseas touring". Etc etc. If it wasn't a British rock band you'd think it was an episode from an American soap opera. But the story of a British rock band it is as the rollercoaster ride of "Oasis" continues and where will it end? Nobody knows but in their wake of bust ups and sibling rivalry they'll leave behind some great music. Thankfully "Definitely Maybe" don't share the same troubles as the real band but they do have a lot in common when it comes to reproducing the rousing anthems, stage presence and atmosphere the originals created.
With nearly two hours of material to draw from including all the hit's from all five album's, live favourites, B-sides and a couple of Noel's acoustic number's when the lad's start there's no stopping them. And who want's to stop when we're all having a good time?
Lead singer Ian Bears an uncanny resemblance to "Liam" and has worked as a a look alike in the UK appearing on the channel 4, Sky TV, Richard and Judy and been used for advertising campaigns which have appeared in Q Magazine, Loaded and the national Press. His latest job sees him starring in the video for the new single by Heavy Metal Legends MOTORHEAD due for release in July 05
As one very pleased punter said after a gig 200 miles away, (whom we'd never met before) "I'm going to see the real Oasis at Wembley later this year and if it's half as good as that I'm in for a bloody good night!"
So as good as the real thing? Well, they… Definitely Might Be
Adored
The Stone Roses were a highly influential rock band from Manchester, active during the late 12980's and early 1990's. Along with other bands such as the Happy Mondays, they comprised the core of the Manchester Baggy scene, centred around their home town. Their 1989 eponymous debut album quickly achieved the status of a classic in the UK, and topped NME's list of the Greatest Albums of All Time. They released a second album, Second Coming, in 1994 and split in 1996. The classic sounds of the Roses adorn many a student night to this day so the double header with Manc favourites OASIS should prove this to be a classic night of the best Indie money can.