Dinner & Cruise with live music with Fireworks
Millenium ships, Budapest.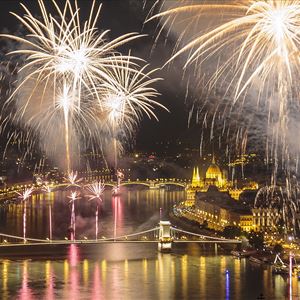 The meeting point is Jászai Mari Square - Port no. 1 (Carl Lutz rakpart 9) at 17:30.
More information about Dinner & Cruise with live music with Fireworks tickets
Hungary celebrates its national day on 20 August, marking the foundation of the state and the country's first Christian king, St. Stephen. Take in the fireworks on your Danube River cruise, and enjoy a Hungarian dinner, an open bar, and live salon music.
Celebrate Hungary's National Day on 20 August with a special 2-hour Danube river cruise on an air-conditioned ship. The great open deck of the ship grants the perfect view one could wish for on this special occasion. Enjoy dinner prepared by chef Molnárka Péter, along with your favorite drinks from the open bar on board. Take in Budapest's biggest event of the year as you watch the fireworks from the upper deck of the ship after dinner.

The cruise begins at around 19:00, and the ship anchors before the fireworks begin. During the cruise you'll enjoy salon music performed by 3 members of the Zoltán Kodály, the award-winning Hungária Folk Orchestra, including the world-famous violinist Zsigmond Vidák.

Menu

Cold Starters:

Spiced cottage cheese cream and traditional greaves cream

Soups:

Alföld style goulash with small dumplings
Vegetable cream soup
Warm Main Courses

Mini stuffed cabbage
Traditional chicken leg "Paprikasch"
Roasted chicken breast with basil-cheese sauce
Spicy pork rib with thyme – mustard sauce
Roasted sea fish with Chardonnay sauce

Garnishes and Vegetables:

Grilled polenta with feta cheese
Grilled vegetables
Homemade dumplings with spinach and mustard-mushroom sauce
Steamed jasmin rice with corn
Hash-brown potatoes
Steak potatoes
Dumplings

Salads:

Fresh seasonal salads with dressings
Italian pasta salad
Caesar's salad
Sweet corn salad with mayonnaise

Seasonal Fruit Basket

Desserts:

Home-made strudel
Somló style sponge cake
Mini tarts
Dessert variations Európa style

Drinks:

• One glass of wine (or juice) and one bottle of mineral water