Doctor Who Experience - Off Peak
Porth Teigr, Cardiff Bay, Cardiff.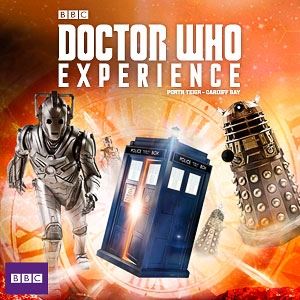 Important information
Under 5's are free
Family: 2 adults and 2 children
Children are aged 5 - 16 years
Merchandise Packages include admission
All children must be accompanied by an adult
Accessibility Ticket Options
We aim to provide an accessible environment for all. Before purchasing accessibility tickets, we advise to click here for further information (including the terms of the free carer ticket available to those needing assistance).
Experience Gift Vouchers
Looking to buy tickets for the experience as a present or treat? The Doctor Who Experience Gift Ticket will give you the opportunity to make a booking without having to choose a specific date or time, the recipient will then be able to confirm these when redeeming it.
The Gift Ticket comes in the form of a voucher that will be posted to you.
Vouchers are valid for use until the 28th May 2017.
Please Click Here to buy gift Tickets/for further information
Looking to redeem a voucher?
Please select the date and slot of your choice and enter your Gift Voucher number on the payment details page. Please select the credit/debit card payment option to proceed and when you enter your code, the order amount will be adjusted before you make payment. Please note vouchers must be redeemed prior to your visit
More information about Doctor Who Experience - Off Peak tickets
DOCTOR WHO EXPERIENCE CARDIFF

LOCATION: Cardiff Bay, Cardiff

EVENT INFORMATION:
Situated within touching distance from where the iconic BBC series is filmed, the Doctor Who Experience in Cardiff features a spectacular interactive adventure where visitors become an official companion and come face-to face with some of the scariest monsters seen on screen, as well as having the chance to fly the legendary TARDIS for the Doctor.

After experiencing the spectacular interactive walk-through, fully immerse yourself in props and artefacts from the television series within the exhibition area - see up and close the incredible sets, costumes and props that feature in your favourite show including the entire collection of Doctors' iconic costumes from 1963 to the present day.

Packed with amazing special effects this multi-sensory experience is fun for the family and fans alike.

AGE GUIDANCE:
No minimum age restriction, but is advised as 5+
Children to be accompanied by an adult
Under 5's are free
This is not a 3D attraction but does include 3D effects. Strobe lighting
effects, floor movement and scenes which younger children may be scared by
occur within the walk through areas, please speak to a member of staff on
arrival if you have any concerns.
Like the television series, the new Doctor Who Experience includes monsters
and scenes that young children may find scary, so parental guidance is
recommended.

OPENING TIMES:
Opening hours : 10am - 5pm (Last entry 3.30pm), 7 days a week until Monday 7th September.
September - October: Open 6 days a week - closed Tuesday's (from, and including, Tuesday 8th September)
Please check opening hours on official website for variations www.doctorwhoexperience.com
The Doctor Who Experience is closed on Christmas Eve, Christmas Day, Boxing Day and has reduced hours on New Year's Day.

PRICES:

Advance Tickets:
Adult Standard: £14.00, Merchandise Package: £32.50
Child Standard: £9.75, Merchandise Package: £28.25
Family Standard: £41.00, Merchandise Package: £70.00

Other:
Under 5's are free
Family: 2 adults and 2 children
Children are aged 5 - 16 years

Disclaimer: You may be asked to supply proof of age. Limit number of
tickets per single order = 9. Children must be supervised by an adult

MERCHANDISE PACKAGE:
Merchandise Packs include admission to the Experience

The Adult Merchandise Pack includes:
1 x Adult Admission Souvenir Ticket
1 x Exclusive Adult T-Shirt
1 x Official Companion Guide
1 x Gallifrey Certificate
1 x Official Companion Bag
1 x TARDIS Boxed Key

The Child Merchandise Pack includes;
1 x Child Admission Souvenir Ticket
1 x Exclusive Child T-Shirt
1 x Official Companion Guide
1 x TARDIS Certificate
1 X TARDIS Bag
1 x Button Badge x 4 pack

The family merchandise pack includes;
2 Adult Admission Souvenir Tickets / 2 Child Admission Souvenir Tickets
2 x Exclusive Child T-Shirt
2 x Official Companion Guide
2 x TARDIS Certificate
2 X TARDIS Bag
2 x Button Badge x 4 pack