Fantastic Negrito
Nells Jazz & Blues, London.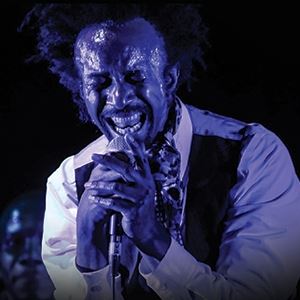 3 North End Crescent,
West Kensington,
London.
W14 8TG
Nearest Tube - West Kensington Station (3mins)
Bus - 74, 190, 430, N74 & N97
Taxi - 30 yds
info@nellsjazzandblues.com
More information about Fantastic Negrito tickets
Fantastic Negrito is the incarnation of a musician who is reborn after going through a lot of awful shit. In fact, the name Fantastic Negrito represents his third rebirth, literally coming back from death this time. The narrative on this man is as important as the sound, because the narrative is the sound. Songs born from a long hard life channeled through black roots music. Slide guitar, drums, piano. Urgent, desperate, edgy. Fantastic Negrito is the story of a man who struggled to "make it", who "got it", and who lost it all. For anyone who ever felt like it was over yet hoped it wasn't, this is your music; blues harnessed, forged in realness.