Firefly Pop-Up Cinema Presents: Harry Potter
Culden Faw Estate: Greenlands, Henley On Thames.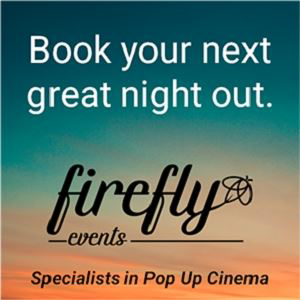 We are very excited to be working with "The Barn" at Turville Heath who will be serving delicious homemade burgers, beef and vegetarian goulash and freshly cooked french fries. We also have a selection of drinks available from our bar as well as Chiltern ice cream, sweets and popcorn.
More information about Firefly Pop-Up Cinema Presents: Harry Potter tickets
Firefly Pop Up Cinemas Presents: Harry Potter and the Philosopher's Stone (2001)
Certificate - PG
Running time - 147mins
The most magical movie saga of all begins with 11 year old Harry who is not only the orphaned son of two powerful wizards but possesses unique magical powers of his own. Invited to attend Hogwarts School of Witchcraft and Wizardry, Harry (Daniel Radcliffe) befriends the hapless Ron Weasley (Rupert Grint) and super-smart Hermione Granger (Emma Watson). Surrounded by colourful characters and embarking on magical adventures all lead Harry towards his s arch-nemesis Lord Voldermort.
The event will always go ahead in the event of bad weather so please check the weather forecast in advance and be prepared. Screenings will only be cancelled if the weather conditions present a danger at screening time. Tickets will not be exchanged or refunded unless a screening is cancelled by Firefly Events. In the unlikely event that a screening is cancelled, we will aim to give as much notice as possible, so please keep an eye out for information at facebook/fireflyeventsuk
For more information & FAQ's please click here.