Habib Koite
Nells Jazz & Blues, London.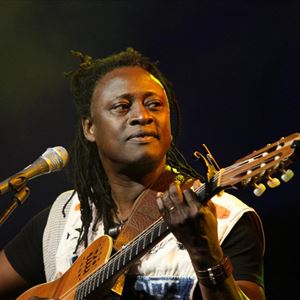 3 North End Crescent,
West Kensington,
London.
W14 8TG
Nearest Tube - West Kensington Station (3mins)
Bus - 74, 190, 430, N74 & N97
Taxi - 30 yds
info@nellsjazzandblues.com
More information about Habib Koite tickets
Malian guitarist Habib Koité is one of Africa's most popular and recognized musicians.
Habib comes from a noble line of Khassonké griots, traditional troubadors who provide wit, wisdom and musical entertainment at social gatherings and special events. Coming from a family of seventeen brothers and
sisters, he developed his unique guitar style accompanying his griot mother. He inherited his passion for music from his paternal grandfather who played the kamele n'goni, a traditional four-stringed instrument associated with hunters from the
Wassolou region of Mali. "Nobody really taught me to sing or to play the guitar", explains Habib, "I watched my parents, and it washed off on me".