Harrow Fair
The Live Room@Caroline Social Club, Shipley.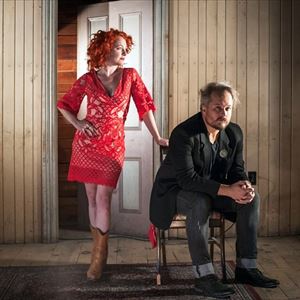 More information about Harrow Fair tickets
Harrow fair is Miranda Mulholland (Great Lakes Swimmers) & Andrew Penner (Sunparlour Players). One part stomping songs that echo early country and rock n roll. The other gritty ballads that sound sweet and haunted. This duo's evocative and rapidly expanding collection of songs are utterly foreign, oddly familiar and deeply gratifying. Debut full-length album 'Call To Arms' is out now.
Miranda and Andrew started writing music together while working in the Soulpepper Theatre Company in Toronto over the last few years. Since then, they have built a musical framework that allows both of them freedom to use their considerable strengths as both singers and instrumentalists and explore songwriting enhanced by heavy kick drum, rootsy guitar and scorching fiddle.
'Between Great Lakes Swimmers tours and just a few months removed from a solo tour in support of her own fine 2014 record Whipping Boy, Miranda Mulholland's lengthy and wide-ranging CV gets another entry with this newish pairing with Sunparlour Players' Andrew Penner' – Chris Young, Toronto Star
'…new duo of fiddler Miranda Mulholland (whose main gig is with Great Lake Swimmers) and Andrew Penner (of Sunparlour Players) is a heavenly excursion into soulful country. Their impassioned, touching interpretation of Hank Williams' Told a Lie to My Heart is just bewitching.' – John Doyle, Globe and Mail