Hermitage Green
Nells Jazz & Blues, London.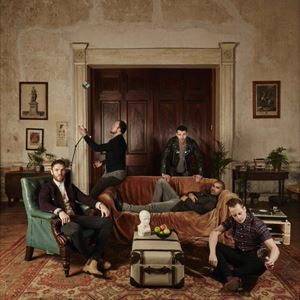 3 North End Crescent,
West Kensington,
London.
W14 8TG

Nearest Tube - West Kensington Station (3mins)
Bus - 74, 190, 430, N74 & N97
Taxi - 30 yds

info@nellsjazzandblues.co
More information about Hermitage Green tickets
Writing together as a group and combining the creative forces of their varied musical backgrounds, Save Your Soul is an album that captures the confidence of Hermitage Green and showcases their ability to write stadium-worthy expansive and riotous songs, while also delivering heartfelt and poetic ballads, made all the more stunning by the power of their four-part harmonies.
Their unique arrangement of instruments that includes the bodhrán, djembe, rhythmic guitar and banjo sets them apart as a truly original offering of Irish Music.
They have already played alongside the likes of Gavin James, Josh Ritter, Walking On Cars and The Pogues and 2016 will see them bring their music to many, many more.