Highland Games Yorkshire's strongest man 2017
Dorothy Hyman's Sports Centre, Barnsley.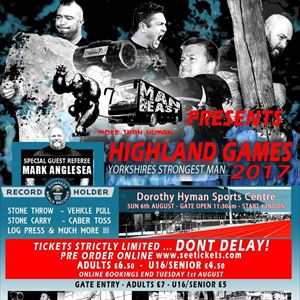 More information about Highland Games Yorkshire's strongest man 2017 tickets
In its third year running this family STRONGMAN event brings the Counties and Country's strongest men to the Yorkshire region to compete across 6 grueling strength events.
This includes the famous SCOTTISH caber toss, 150kg (23 stones in weight) stone carry to failure, x 2 vehicle pull, stone throw, log press and tug of war. Barnsley witnessed a classic event last year with England's strongest man victorious.
INCLUDES the crowd favourite - Children's tug of war from the crowd boys v girls.
Included in the ticket is a chance after to have your picture taken with the guys.
Included is 2 times Guinness World Record Holder referee Mark Anglesea
CompetIng are Yorkshire's strongest man 2015/16 and England's strongest man 2016/2017.
More competitors to be added soon.
Check www.manbeast.co.uk
Twitter: @manbeast28
Facebook: @manbeast28
youtube: https://www.youtube.com/channel/UCFHyvXRSPIoIbf6KS_xG4SQ