Hope & Glory
St Georges Quarter, Liverpool Merseyside.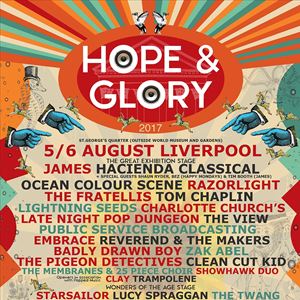 More information about Hope & Glory tickets
HOPE & GLORY is a new 12,500 capacity boutique festival in the heart of Liverpool, with the stunning Victorian backdrop of the World Museum, City Library and St.George's Hall and St.John's Gardens.

Try to imagine your favourite bands, combined with a decadent Victoriana carnival, wicked fun, with a heavy dose of outrageous sideshows, and you'll begin to get a picture of what HOPE & GLORY festival is.

A wonderful boutique festival and all within a few hundred yards walk of the main Lime Street train station. Stylish yet subversive - think Charles Darwin meets Johnny Depp.

At HOPE & GLORY you can expect to find the following and much more:

THE GREAT EXHIBITION STAGE (Main Stage)
THE WONDERS OF THE AGE STAGE (Second Stage)
DR.JOHNSTON'S CLANDESTINE GATHERING (Spoken Word Area)
DARWIN'S LITTLE DARLINGS (Kids Games and Theatre Area)
KALEIDOSCOPE CORNER (Games and Competitions Area for Grown Ups)
THE HOOP & STICK (Bar)
PRINCE ALBERT'S LITTLE SECRET (Cocktail Bar)
MR EDISONS ELECTRIC EMPORIUM (Phone charging Area)
MOTHER'S RUIN (Gin Palace)
LONGJOHNS & BLOOMERS (Toilets of course!) and much, much more


Food/Alcohol: No food and drinks/alcohol allowed to be brought from outside into the festival arena/site. There will be a host of food concessions, bars, a gin palace and cocktail bar on site.