Live/Wire the AC/DC Show
The Citadel, St Helens.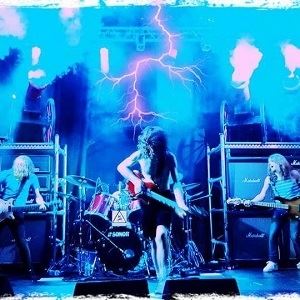 The ultimate AC/DC tribute band return for over two hours high voltage Rock 'n' Roll.
Under 18s must be accompanied by an adult. We cannot issue refunds to under 18s who are not accompanied by an adult.
More information about Live/Wire the AC/DC Show tickets
Live/Wire is The AC/DC Show. The unique six-man tribute to rock music's greatest band AC/DC, complete with cannons, a wall of Marshalls' and over two hours of High Voltage Rock 'n' Roll.
The AC/DC story is over forty years in the making, with two specific eras and the band cover both these as always with both 'Gary' Bon Scott and 'Pete' Brian Johnson present to take you on the Rock and Roll train for a night to remember. Originally fronting AC/DC was legendary front man Bon Scott, a wild man of rock and roll, whose untimely death shocked the world in 1980. This event came at a time when the band was sampling global success for the first time. Gary delivers songs from the Band's first half dozen albums from Dirty Deeds to Highway to Hell with Bon's inimitable attitude and style. Pete, then dons the flat cap as Geordie vocalist, Brian Johnson, whom AC/DC turned to in order to fill the void left by Bon. Brian's searing vocals Iced Back in Black, one of the best-selling rock albums of all time! Brian has now been with AC/DC for well over thirty years and like a good wine he's matured with age. Pete brings the Live/Wire show bang up to date with classic 'Brian' songs and includes some tracks from AC/DC's recent and hugely successful new album, Rock or Bust.
The band aim to put you slap bang in the middle of the show with hit after hit, and you are expected to join in! There'll also be one or two gems thrown in for the aficionados! We'd be hung, drawn and quartered if we didn't play all the classics, Back in Black, Rosie, Highway to hell are all there, and the songs keep on coming until the cannons fire ceremoniously to bring the evening to a superb crescendo. If by this time you are still standing…we salute you! Long Live AC/DC, Long Live LIVE/WIRE
Under 18's must be accompanied by an adult and seated on the balcony upstairs.