Luke Daniels 'Revolve & Rotate
Kingskerswell Parish Church, Newton Abbot.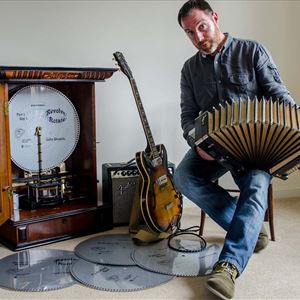 More information about Luke Daniels 'Revolve & Rotate tickets
Luke Daniels 'Revolve & Rotate – The Polyphon Chronicles'
at Kingskerswell Parish Church Doors 7pm on October 1st
Luke Daniels is a BBC award winning folk musician, singer, and former
Riverdance band member who has performed with Ian Anderson of Jethro
Tull, Cara Dillon and De Dannan. Currently folk musician in residence of the
National Museum of Rural Life, a tutor on the Royal Conservatoire of
Scotland's traditional music course and a soloist on The Lord of the Rings and
Hobbit soundtracks.
His latest album features new original songs and instrumental music
composed for Polyphon machine. Having written pieces for an original c1880
machine, for which many popular folk tunes were arranged in the late 19th
century, he combines digital audio with the machine's acoustic clockwork
mechanism and live performance to create music spanning the earliest form
of recorded music with the very latest technology.
"Modern morality tales and intriguing instrumentation"The Guardian
"Three Servants and If This Town already sound like future classics."
Songlines Magazine
"An enchanting delight" Acoustic Magazine