Martina Edoff
Robin 2, Wolverhampton.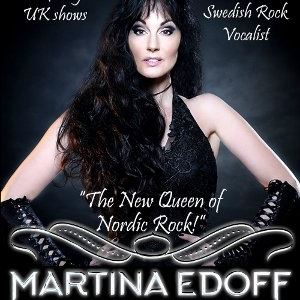 No under 14s in the standing area, 14 - 17s must be accompanied by an adult. No refunds will be given for incorrectly booked tickets.
More information about Martina Edoff tickets
+ special guests Redline
With her all-star band
Martina Edoff from Sweden is one of a kind. Strong, Brave & In control.
After starting her career as a singer, recording and touring with multimillion selling hip hop artist Dr. Alban, the Swedish phenomenon E-Type a.o, she became a founding member of the double platinum selling glam metal band The Poodles. Martina Edoff now returns as a solo artist with the classic rock she originally was born and raised for.
www.martinaedoff.com
www.facebook.com/martinaedoffmusic
https://youtu.be/Q24lKV9G8Fw
REDLINE are from Birmingham in the UK, balls to the walls guitar, a locked and loaded rhythm section and a real powerhouse of a vocalist, REDLINE are sure to impress with their own brand of Hard Rock and British Heavy Metal.
REDLINE's album VICE, released on Escape Music (worldwide) and Rubicon Records in Japan, has met with critical acclaim. One of the tracks featured is REDLINE S anthemic "King Of The Mountain", which has become the soundtrack to the Isle Of Man TT Motorcycle Races. The song is used on all the television coverage of the event and has now been broadcast to over 32 million people worldwide. Cold Silence, a power ballad on the album, features British pop legend Jimmy Lea from Slade on Cello and Violin.
REDLINE s music from the album is also used exclusively on Full Throttle , an exciting new motorcycle themed Pinball Machine (manufactured by Heighway Pinball) that has just been released in the USA and the UK.
REDLINE have played at a number of British festivals including Hard Rock Hell and Planet Rockstock as well as touring with the legendary Saxon and supporting bands such as Y&T, Raven, Bernie Torme and many others.
REDLINE are currently writing a new album and a number of songs have already been recorded in preproduction.
www.redlinerock.com