Nazareth + Special Guests
Waterfront, Norwich.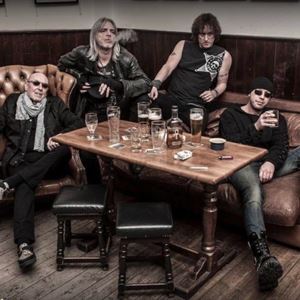 This event is for over 14s only - No refunds will be issued for under 14s.
More information about Nazareth + Special Guests tickets
Nazareth are a Scottish hard rock band formed in 1968, that had several hits in the United Kingdom in the early 1970s,
They were inspired by The Beatles and The Rolling Stones. Nazareth took their name from Nazareth, Pennsylvania
The band moved to London in 1970 and released their eponymous debut album in 1971. after the further success of their second album Exercises, released in 1972, Nazareth supported Deep Purple on tour, and issued the Roger Glover-produced Razamanaz, in early 1973.
This collection spawned two UK Top Ten hits, "Broken Down Angel" and "Bad Bad Boy". This was followed by Loud 'N' Proud in late 1973, which contained another hit single with a cover of Joni Mitchell's song "This Flight Tonight". Then came another album Rampant, in 1974, that was equally successful.
Hair of the Dog was released in April 1975 and was produced by Manny Charlton, ending Roger Glover's association with the band.The title track of that album (popularly, though incorrectly, known as "Son of a Bitch" due to its hook lyric) became a staple of 1970s rock radio. The American version of the album included a song originally recorded by The Everly Brothers, the melodic Boudleaux Bryant-penned ballad "Love Hurts", that was released as a hit single in the UK and in the US, where it went platinum. a top 10 hit in nine other countries, reaching number 1 in six of them
A tribute came in 1993 when Guns N' Roses covered Nazareth's "Hair of the Dog" on "The Spaghetti Incident?", consolation after they turned down Axl Rose's request for the group to play at his wedding. Rankin departed again in 1994, but with Jimmy Murrison and keyboard player Ronnie Leahy, Nazareth maintained a live following in Europe and the US. In February 2008,
The Newz was released to coincided with Nazareth's fortieth anniversary tour, which started on 25 January in Sweden and visited most of Europe, finished on 4 November 2008 in Norway. A follow up album, Big Dogz, was released on 15 April 2011
On 13 February 2015, the band announced that Carl Sentance, formerly of Persian Risk, Geezer Butler Band, and Krokus, was their new lead vocalist.