New Years eve Party cruise
Millenium ships, Budapest.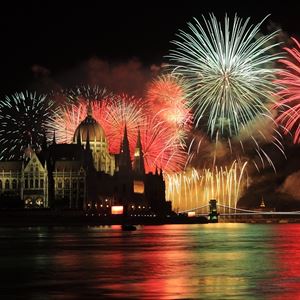 Please during the reservation provide your hotel/accommodation address/name and Nationality.
More information about New Years eve Party cruise tickets
New Year's Eve is a time when you want to make sure you have a blast as you welcome the new year. This year, we give you a chance to celebrate your new years' in the heart of Budapest, while on a cruise along the River Danube. With fine dining, an open bar and Hungarian music for company, this is sure to become the grandest New Year's celebrations you can become a part of while in Hungary.

This is your invitation to the biggest New Year's Party on the Danube. Let the dazzling fireworks illuminating Budapest's skyline be the last thing you see in 2017, and the first in 2018! Boarding is at 19:00. The ships are located at Jászai Mari Square Square. Upon arrival drinks are served and guests can enjoy an open bar all evening. The party really gets going at 20:30, when the 5-course gala dinner is served.

The award-winning Rajko Orchestra and Folk Ensemble supply the evening's entertainment from 22:00 onwards. Performing traditional dance in authentic costume, guests can enjoy New Year, Hungarian style, to the sound of this lively orchestra. You are invited to join in with the dancing, too!

Throughout the evening, the ship will cruise once before settling at the Jászai Mari Square on the Pest side of the city. Just before midnight the ship will set sail again to bring in the New Year in the centre of the Danube. As the clock strikes midnight, fireworks light up the city and champagne is served, along with the traditional Hungarian delicacy of stuffed cabbages! Guests can stay aboard the ship and party until dawn.

At 01:00 am, a bus service will operate hourly to return guests to their hotels.
Gala Dinner Menu A: Red Meat Option
Mini Mangalitza pork mignon with horseradish and ginger-flavored roasted peppers
Cold Appetizer
Smoked sturgeon fillet with fennel cream, lemon-seasoned blanched celery salad, cured quail egg and trout caviar
Soup
Bavarian mushroom soup enhanced with dill and wood ear mushrooms, served with Jerusalem artichoke pudding with cured ham and sour cream foam
Main Course
Rosemary veal chop with herbed Mangalitza pork sausage, garnished with baked potatoes in cream, orange-seasoned roasted tomatoes, marinated daikon radish and sherry sauce
Dessert
Chocolate cake with cognac-flavoured sour cherries, passion fruit mousse and pistachio crumbs
Gala Dinner Menu B: Poultry Option
Mini Mangalitza pork mignon with horseradish and ginger-flavored roasted peppers
Cold Appetizer
Smoked sturgeon fillet with fennel cream, lemon-seasoned blanched celery salad, cured quail egg and trout caviar
Soup
Pheasant consommé with wood ear mushrooms, meat pâté enhanced with rosemary and artichoke royal
Main Course
Chicken breast filled with duck liver, garnished with baked potatoes in cream, orange-seasoned roasted tomatoes, marinated daikon radish and sherry sauce
Dessert
Chocolate cake with cognac-flavoured sour cherries, passion fruit mousse and pistachio crumbs
Gala Dinner Vegetarian Option:
Rosemary-seasoned carrot puree and zucchini mignon marinated with ginger-flavored roasted peppers
Cold Appetizer
Soft cow's milk cheese with sage and cucumber, served with fennel cream, lemon-seasoned blanched celery salad, cured quail egg and beet chips
Soup
Cream of mushroom soup with spicy mushrooms, Jerusalem artichoke royal and sour cream foam
Main Course
Grilled pumpkin pâté with Parmesan, garnished with baked potatoes in cream, orange-seasoned roasted tomatoes and marinated daikon radish
Dessert
Chocolate cake with cognac-flavoured sour cherries, passion fruit mousse and pistachio crumbs
Midnight menu
Lentil soup, Boiled sausage and Debrecener sausage with horseradish and mustard, Transylvanian mini stuffed cabbage
Fruit platter
OPEN BAR
Tokaji Furmint Grand Selection
Hilltop Premium Merlot
Juhász Pincészet Kékfrankos rozé
Sz?ke Mátyás Muscat Ottonel
Thummerer Tréfli Cuvée
Pfneiszl Merlot
Jásdi Chardonnay
Konyári Cabernet Sauvignon
Laposa Olaszrizling
Tokaji sweet/dry szamorodni
SOFT DRINK WITH GAS,
ORANGE JUICE 100%, PEACH JUICE 50%, FILTERED APPLE
MINERAL WATER WITH GAS AND WITHOUT GAS
BEER DREHER / Hofbräu
Törley DRY/ SWEET
Dunai hajós pálinka (peach, pear, apple, plum)
Unicum
Jägermeister
Baileys
Whisky (Ballantines, Johnny Walker, Jim Beam)
Vodka
Tequila
Bacardi
Gin
Brandy Lánchíd
COFFEE ESPRESSO