Olive Magazine Reader Event
Meantime Brewery, Greenwich.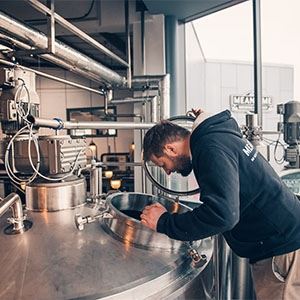 More information about Olive Magazine Reader Event tickets
Join our exclusive reader event with Meantime Brewing Company and Paxton & Whitfield cheesemonger

I'm thrilled to invite you to our latest olive reader event combining two of our favourite things - beer and cheese. Hosted at the Meantime brewery in Greenwich this July, guests will be given a comprehensive tour of the brewery followed by a tutored tasting of a selection of beers expertly paired with cheese from historical London cheesemonger Paxton & Whitfield. Bring on the cheese dreams!

Pioneers of modern craft beer, Meantime Brewing Company was founded 17 years ago in Greenwich, London. The brewery is now one of the UK's largest and most technologically advanced. The approach is simple, Meantime puts a unique and modern twist on the beer styles that made London a global brewing superpower. Meantime believes the best things come to those who wait, so the team take extra time to brew their beers for around six weeks, ensuring every pint is packed with flavour. After all, if something's worth doing, you have to do it like you mean it.

Cheesemonger Paxton & Whitfield has been trading in London for more than 200 years and has held eight Royal Warrants including one currently by appointment to HM The Queen. Today Paxton & Whitfield has four shops and supplies leading restaurants and independent retailers across the UK. Paxtons itself remains an independent, family owned business whose focus continues to be on supplying the highest quality cheese.

As Meantime is a fully working brewery, please note that unfortunately there is no wheelchair accessibility.