Paw Patrol Live! Race to the Rescue
Motorpoint Arena, Nottingham.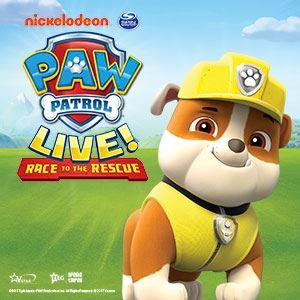 PAW Patrol Live! Race to the Rescue
It's the day of the Great Adventure Bay Race between Adventure Bay's Mayor Goodway and Foggy Bottom's Mayor Humdinger, but Mayor Goodway is nowhere to be found. PAW Patrol to the rescue! Ryder summons Marshall, Chase, Skye, Rubble, Rocky, Zuma and Everest to rescue Mayor Goodway and to run the race in her place.
Using their unique skills and teamwork, the pups show that "no job is too big, no pup is too small", and share lessons for all ages about citizenship, social skills and problem-solving as they make several heroic rescues on their race to the finish line.
More information about Paw Patrol Live! Race to the Rescue tickets
A new bag policy is in place. It's part of the enhanced security measures for all major events and means you can only take handbags and other small bags (no larger than 35cm x 40cm x 19cm) into the arena with you.
Please note that anyone with a larger bag than this will not be admitted into the venue.

You should arrive as early as possible and allow more time for security checks when arriving at the venue. These extra checks may increase the length of queues so please give yourself plenty of time to arrive and enter the venue.