Remode
Robin 2, Wolverhampton.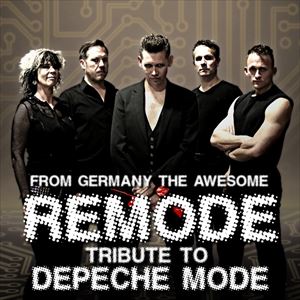 No under 14s in the standing area, 14 - 17s must be accompanied by an adult. No refunds will be given for incorrectly booked tickets.
More information about Remode tickets
+ support
Just can't get enough Depeche Mode?
Even Johnny Cash and Marilyn Manson covered the most successful technopop group of all times. But who can play live, original versions apart from Depeche Mode themselves?
Remode is Germany's most popular Depeche Mode tribute band. None other comes as close to the power and passion of the boys from Basildon as this band from Bielefeld.
What started as a fan project for a single concert in January of 2006 has continuously developed. The reaction of the crowds to the band's stage debut was so fantastic that the group decided to expand and perfect the Remode project. Under the motto "the original is the holy grail" and a solid foundation of bass, guitar and drums, Remode quickly developed a loyal fan base that continues to grow.
In 2007, Remode was named "Europe's Best Depeche Mode Tribute Band" by the music magazine Subway. The band celebrated the accolade with a concert in the Brunswick Volkswagen Concert Hall in front of over 4,000 fans. With a remarkable stage presence and outstanding authenticity, Remode can get even the most critical voices to sing along. Fans expect a lot from Depeche Mode, and even more from a tribute band. Remode meets the challenge without compromises.
In recent years, Remode has been booked as a headliner band, serving as highlight at festivals and events. Remode inspires emotions that can only be felt at a live Depeche Mode concert.
Vocals: Detlef Kloss
Keyboards & Vocals: Marcus Mundus
Bass & Vocals: Heike Nolden
Guitars: Johannes Makowski
Drums: Vic Chains