Russell Howard
Newcastle Metro Radio Arena, Newcastle.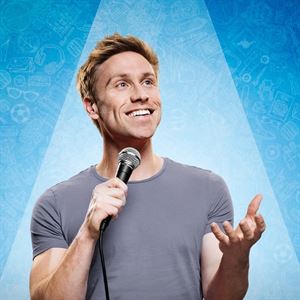 Under 14s must be accompanied by an adult. We cannot issue refunds to under 14s who are not accompanied by an adult.
More information about Russell Howard tickets
Please note that some seats have possible sight restrictions as below:

Block 200/218 - listed as possible just in case there are large screens/speakers that might cause an issue
Back rows of 200/201/202/215/216/217/218 - these are level with the row in front so only really an issue if you have a tall person in front of a small person
Block 107 - listed as possible in case the mixer in large/contains cameras etc.
Blocks 207-211 - These are under the overhang of the balcony/behind pillars.
Block 100/114 - usually blocked slightly by speakers/staging


CHILDREN UNDER 14 Policy

As a responsible entertainment venue, the safety and comfort of our patrons is paramount. This Duty of Care is particularly relevant when protecting minors under 14 years old; as such our policy is that all children under 14 years old must be accompanied by an adult, defined as someone 16+ years of age who will be present for the full duration of the event.

For certain shows where the audience is both seated and standing, no one under 14 years old will be permitted AT ALL to stand on the auditorium floor.

Parents should always be aware of their general responsibilities regarding their children's safety in situations where they are outside their direct control, and indeed legislation detailing these responsibilities. Russell Howard's fan base has grown steadily over the years thanks in part to his topical news show 'Russell Howard's Good News'. His observational and topical humour has seem him pick up legions of fans internationally too. 2017 will see Russell head out on a huge arena tour as well as perform 10 dates at London's Royal Albert Hall.