Safari Nights - Atomic Kitten
Yorkshire Wildlife Park, Doncaster.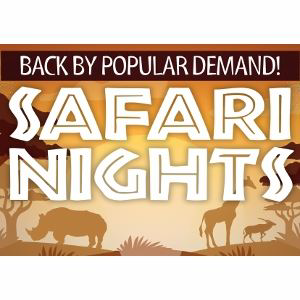 Under 16s must be accompanied by an adult. We cannot issue refunds to under 16s who are not accompanied by an adult.
More information about Safari Nights - Atomic Kitten tickets
Yorkshire Wildlife Park's hugely popular 'Safari Nights' are back, bigger and better than ever in 2017!
Running every Saturday in August, the events offer extended opening hours at the top wildlife attraction in Doncaster, providing a unique opportunity to see some of the world's rarest and most at risk animals after hours, while enjoying top live entertainment as well as a family-friendly fireworks finale.
Visitors can make the most of the summer sunshine, with admission from 10am: last entry is at 7pm, animal walk-throughs and play areas are open until 8pm.
From 5pm there'll be live music and entertainment to enjoy with local bands, live acoustic acts, face-painting* and the return of the fantastic Black Eagles acrobats. (*additional charge applies)
The evening's headline entertainment on the Wildlife Concert Stage starts at approximately 7pm and continues until just after 9pm with the firework finale.


Terms and Conditions of Entry

Yorkshire Wildlife Park reserves the right to make alterations to the advertised programme at any time and without advance notice.
No pets or dogs are permitted into the Park but dogs are permitted in Safari Village, kennel facilities are not provided. Dogs cannot be left in vehicles.
The Park is a non-smoking area and smoking is not permitted anywhere within the Wildlife Park. This includes all types of e-cigarettes and vaping devices. A Smoking Area has been provided in the Safari Village.
Children under the age of 16 years must be accompanied by an adult.
No barbecues or open fires are allowed in the Safari Village or Wildlife Park.
No bikes, scooters or skateboards are allowed in the Safari Village or Wildlife Park. Bike Racks are provided in the Disabled Car Park and the Safari Village Courtyard - Bikes are left at owners own risk. We do not provide facilities to recharge mobility scooters or electric wheelchairs.
The speed limit in the Park is 15 mph and must be kept to at all times.
CCTV Cameras are in operation throughout the site for the purpose of security and the protection of visitors. Images are recorded digitally and stored offsite.
Yorkshire Wildlife Park reserves the right to ask any participant to leave the site should they behave in an inappropriate or unsafe manner.
Yorkshire Wildlife Park reserves the right to refuse admission to and/or eject any person appearing to be intoxicated, under the influence of drugs, or otherwise behaving dangerously or inappropriately. No refunds will be given under these circumstances.
To ensure safety, we may conduct security searches of clothing, bags and all other items on entry and exit, and reserve the right at any time to confiscate items which may cause danger or disruption to the event, staff or members of the public.
Please note loud music or noise can damage hearing and Customers who attend the Event do so at their own risk.
Digital Recording and Photography: Any photographs, digital images or video recordings made during a visit to the wildlife park may only be for personal use. The sale of photographs, digital images or video recordings for profit can only be done with prior permission. Please contact info@yorkshirewildlifepark.com. The use of Aerial Drones, radio controlled helicopters and UAV devices of any design and configuration is strictly prohibited.
By accepting these terms of entry, you agree that Yorkshire Wildlife Park may use any photographs and/or video or other recordings whilst taken at the park for promotional purposes.