Tales from the track with Elinor Barker MBE
National Cycling Centre, Manchester.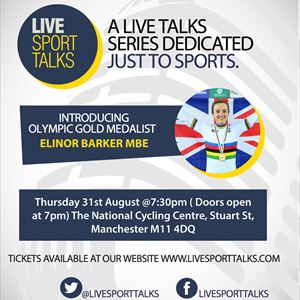 Doors open at 7pm with the talk beginning at 7:30pm. The event is set to end at 9:15pm.
More information about Tales from the track with Elinor Barker MBE tickets
Live Sport Talks returns to Manchester, where we welcome Gold medal winning cyclist Elinor Barker at the National Cycling Centre on Thursday 31st August! Elinor joins us, just weeks before she heads off to the next championships to talk to us all about her career so far and, of course that Gold medal winning night in Rio. Elinor, at the age of just 22 already has 16 medals to her name in a quite remarkable career. There will also be a chance for YOU to ask your questions in the Q & A session as well as have a photo with Elinor and she may even bring her medal!
Tickets are limited and are priced at £15* each and under 18s are just £12* . If you are unable to make it to Manchester, don't worry we will be streaming the event LIVE on our closed Facebook group. Live stream passes are just £5 each, simply purchase a stream code and then you will be invtied into the group! You will also be able to ask questions, by commenting on the live link!
Join us for this unique opportunity to hear LIVE from a Gold medal winning Olympian!
Be a part of the team! Order your own Live Sport Talks t-shirt and bag now for Elinor to sign on the night!