Terry & Gerry & Serious Sam Barrett
Westgarth Social Club, Middlesbrough.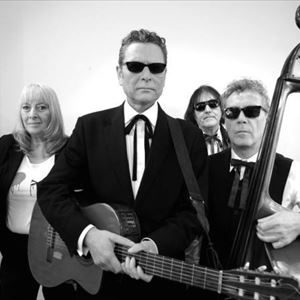 Terry & Gerry Serious Sam Barrett Ben Bateman Danny Devon Adv Tk £9 OTD £12
More information about Terry & Gerry & Serious Sam Barrett tickets
We once again welcome back 1980s cult skiffle band Birmingham's Terry and Gerry, to Middlesbrough. The band originally reformed for us when they were asked to perform at our Peel Regenerated music festival in 2014. This will be the fourth occasion they have played for us.

They reformed in honour of their biggest fan John Peel, who died in 2004, and will be supported by at least two possibly three other groups/musicians.

The radio DJ apparently picked out the Terry and Gerry's demo tape by chance because his wife's best friends were known as Terry and Gerry.

Following that, the band recorded four critically-acclaimed sessions for the Radio 1 John Peel show and got a fond mention in his autobiography.

Terry and Gerry released six singles and one album in the mid-1980s with each one going to number one in the independent charts.

They toured throughout Britain, Europe and America and picked up fans including Joe Strummer from The Clash and Shane MacGowan from The Pogues.

The band also regularly appeared on radio and television and wrote theme tunes for Central TV.

Terry and Gerry recorded a new EP called Dear John last year and were invited by Status Quo as special guests on their UK tour.

https://www.youtube.com/watch?v=XnUkM9_rpyE

Support includes the returning Serious Sam Barrett , the Leeds , country folk punk blues holla-billyster . Sam warmed the crowd up beautifully at last year's event and still has many friends in the Teesside area from his skatebooading days and we are glad to have him as part of the line-up again.

Splendid folk blues from the West Yorkshire hills Gideon Coe show.(BBC Radio 6)

Songs that rattle with the ghosts of Appalachian folk, and southern blues, yet sound emphatically English.
UNCUT MAGAZINE

Old before his years country-folk fellow who mixes intricate John Fahey fingerpicking with confessional tales of dirty old Leeds-THE GUARDIAN (PICK OF THE WEEK)

"Yorkshirecana bluegrass brilliance from Serious Sam. He plays a mean 12 string resonator, mixing songs about his home county with traditional southern folk stompers. There's authenticity, there's soul - someone to get very excited about."- ARTROCKER

(ARTROCKER MAGAZINE voted his first album NUMBER 27 in the top 100 albums of 2009 (not bad for a 500 limited pressing)http://artrocker.com/node/19662)

"Deliciously home-grown, this is a rewarding collection of songs that could well renew your faith in underground folk scenes. This stripped down and raw album is riddled with the gritty reality of this artist's Northern life and makes no apologies" ACOUSTIC MAGAZINE

"An endlessly playable delight from beginning to end"- VINTAGE GUITAR MAGAZINE (USA)

https://serioussambarrett.bandcamp.com/
Local singer songwriters Danny Devon and Ben Bateman have been added to the line-up.