The Blockheads
ARC, Stockton-on-Tees.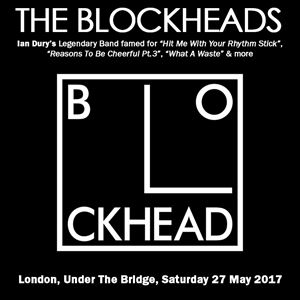 The Blockheads make a return for 2017 with their 40th anniversary tour.
Under 14s must be accompanied by an adult. We cannot issue refunds to under 14s who are not accompanied by an adult.
More information about The Blockheads tickets
Starting out as the band behind Ian Dury and now fronted by Derek Hussey, the Blockheads make a return to the touring circuit armed with an incredible array of material which spans from their early success to newly penned tracks.
The band's last studio album, Same Horse Different Jockey, was released in November 2013 (to coincide with 35 years since the release of Hit Me with your Rhythm Stick), and continues to show both their diversity and supreme quality, as well as showcasing their uniqueness.
Derek Hussey's lyrics in the band's new songs keep the combination of poetry, word play, earthy humour and deadly-accurate observations of everyday, British working-class life, that Ian Dury had perfected, but with an added bite for the 21st century.
Along with some new material, the band will be performing Hit Me with your Rhythm Stick, Wake Up And Make Love With Me, Reasons To Be Cheerful (Part 3), What A Waste, Clevor Trever, Sweet Gene Vincent and many more from their illustrious back catalogue.