The DUO Arnicans Interview Concert
St Pauls, Worthing.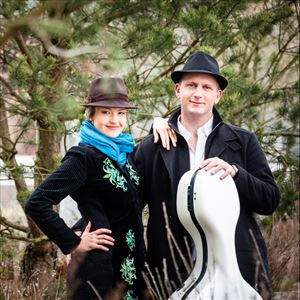 More information about The DUO Arnicans Interview Concert tickets
The International Interview Concerts at St Paul's
". . . become the touches of sweet harmony" - Lorenzo (in 'The Merchant of Venice')
DUO Arnicans ? Arta Arnicane (piano) Florian Arnicans (cello)
Recording artistes from Zurich with CD albums together and solo on the Solo Musica label (Sony) and Arcodiva:
"Special affinity . . . powerfully attractive" - Music Web International
"superb partnership" - Pizzicato
"Brilliant! What I call a discovery!" - Vienna Zietung
St Paul's Cafe, Worthing BN11 1EE
Thursday 2nd November 2017
Doors at 7.00pm
Starts at 7.30pm
Latecomers must await the interval
Tickets:
£13 Adult
£11 WSS members
£5 Students
£1 Up-to-18
http://www.seetickets.com/event/the-duo-arnicans-interview-concert/st-pauls/1136699
So what's an Interview Concert? It's a compelling, affordable, intimate and social experience:
Audience 'In the Round' - close-up and connecting
Seating unreserved - choose where to sit, no expensive seats
Interviews with the artistes - get to know them, and the music played
Audience questions - you can have your question asked, too
Cafe open - tasty St Paul's fare on sale before, in the interval, at the end
CDs on sale - solo piano or duo; take some DUO Arnicans music home with you
Meet the musicians afterwards - interaction, reciprocation
It's another return with her husband to Worthing for popular Arta Arnicane (Latvia), winner of the 2010 Sussex International Piano Competition (SIPC) and subsequent concerto appearances with Worthing Symphony Orchestra, a solo Interview Concert in 2012 and a concert together during the 2013 SIPC, when Arta was a guest juror in the competition.
It will be a second visit here for Florian Arnicans (Germany) and with him this Interview Concert showcases the cello's distinctive, stirring and enveloping ability to sing like a human voice. If you've not experienced it before, this evening will unveil to you to this beautiful instrumental combination.
The cello will team up with the piano's ability in the hands of Arta to sing back and combine, to make music to stay with you long after you've been at this concert. Their programme of solos and duos is subtitled with the Latin American name for song, Canción, and will be an example of Arta's special artistry in creating imaginative and rewarding programmes.
Both will be interviewed and already Worthing audiences know and revere Arta's powers of happy verbal communication. We'll be hearing Florian for the first time. Married with one son, they are based in Zurich, Switzerland.
Their 'Programme Canción':
"The Cello Sings"
Johann Sebastian Bach - Arioso (melodious and vocal)
Franz Schubert - Ständchen (serenade)
Felix Mendelssohn - Lied ohne Worte Op.109 (Song without Words)
Antonin Dvorak - Melodie
Pablo Casals - Song of the Birds
Maurice Ravel - Pièce en forme de Habanera (sultry Spanish dance)
Josef Suk - Serenade
(interval)
Johannes Brahms - Sonata for Cello and Piano in F major Op 99
Allegro vivace (quick; animated, lively)
Adagio affettuoso (slow; but warm-hearted and affectionately)
Allegro passionate (quick; passionately)
Allegro molto (very quick)
In 2013, Arta and Florian delighted the audience with Brahms' first cello sonata. Here now comes the equally superb second. Brahms could play both instruments!