The Galileo 7 with Thee Strawberry Mynde
Westgarth Social Club, Middlesbrough.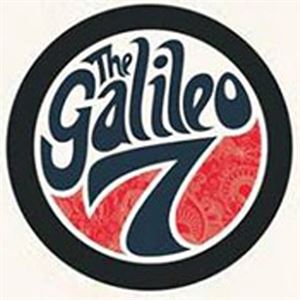 A Fast Forward and Get Hip joint promotion brings The Galileo 7 featuring ex The Prisoners, The Solarflares, JTQ, Thee Headcoats and current Graham Day & the Forefathers member Allan Crockford to Middlesbrough's Westgarth Club.
Support from Thee Strawberry Mynde
More information about The Galileo 7 with Thee Strawberry Mynde tickets
That Allan Crockford will forever be associated with Medway's four sons The Prisoners is a fact of life. Across the first half of the '80s The Prisoners' innate blend of amphetamine-laced mid-60s sounds fuelled by James Taylor's go-go-tastic organ and Graham Day's Steve Marriott-like vocals provided solace from the prevailing synth pop trends. Yet it was the loose, psychedelic bass and drum combination of Allan and Johnny Symons that laid the foundations for the '90s baggy movement and anticipated the arrival of Britpop. Without The Prisoners there might never have been a Stone Roses, Inspiral Carpets, Charlatans, Kula Shaker or Oasis. Like many before them The Prisoners were just too early for the party. Resigned to an ever-decreasing mod circuit – which was not embraced with open arms – they ended their career frustrated with the music industry, leaving a highly influential body of music behind. Since then Day and Crockford have fronted a further two bands that have continued and developed The Prisoners' sound (The Prime Movers and The Solar Flares) whilst both being separately involved with such various local legends as James Taylor and Billy Childish. Over the last year Allan and Graham have joined together again to bring fans the music of their Prisoners/Prime Movers/Solar Flares days as Graham Day & The Forefathers. The best Prisoners covers band by far!
That the music of Allan's own band The Galileo 7 (named after a vintage Star Trekepisode) has only the slightest whiff of The Prisoners about it speaks volumes. (Allan came to songwriting late in the day, only starting during his 2004-09 stint in garage-punk band The Stabilisers, who were signed to Little Steven's Wicked Cool record label.)
If Day vented his spleen as a lyricist Allan displays a far lighter touch of cynicism. As a vocalist Day is a powerhouse singer whereas Allan sings in a deadpan style more akin to the Estuary eccentricism of Martin Newell, Andy Partridge's nasal twang and Robyn Hitchcock's rekindling of The British Psychedelic Trip. Now playing guitar rather than bass he is far less Hendrix than Day, playing as part of a musical ensemble that is equally driven by the fantastic baroque keyboards of Viv Bonsels.
In fact, The Galileo 7 have very little, other than a member and a musical line-up, in common with the caustic Prisoners. Their music is almost nice in a manner not unlike that of the '60s loving Paisley Underground bastions The Three O'Clock. On False Memory Lane, their third album, which follows on from Are We Having Fun Yet? (Misty Lane, 2010) and Staring At The Sound (State, 2012), Allan and cohorts Viv (organ), Mole (bass/vocals – and almost as legendary as Allan for his contribution to latter day garage and psych via Radio 1 faves The Mystreated and current band The Higher State, not to mention his quality assured State Records) and Russ Baxter (drums) The Galileo 7 are as yet to go prog, throw in drum machines or add big '70s rock guitars to the mix. Instead, their piquant blend of psychedelic pop straddles similar ground to The Bevis Frond at his most pop and the modish powerpop of Medway brothers-in-arms The Len Price Three. But let's not fully discount prog. The title track features a Mellotron and does indeed have something of the turn of the decade Moody Bluesabout it. "I guess that's the Mellotron/acoustic thing," agrees Allan. "I didn't have that in mind when I wrote it, just a desire to try an acoustic song. I love Mellotron, me." 'I'm Still Here' is also browner rather than paisley. Inspired by late '60s Kinks, the song echoes Allan's early '90s actGoodchilde and sounds like it could have been an indie smash for Teenage Fanclub orDodgy across the closing weeks of the 20th Century. More psychedelic is the wonderful "twisty turny" 'Nobody Told You' which Allan attributes to the feel of Simon Dupree & The Big Sound's 'Kites'. It also sounds uncannily like the out of time London psychedelicists The Direct Hits tackling The Left Banke, Strawberry Alarm Clock and Association. And blimey, if only the Gallagher bros would cover 'Fools' in one or their new acts. It would certainly provide them with a hit with a song not unlike their earlier back catalogue. It's like Soundtrack Of Our Lives at their mellowest. Recorded and honed at the band's rehearsal room and finished at home False Memory Lane is an album that has been refined over time.
"I try not to be too 'Medway'," closes Allan. "There are plenty of people doing that, and having played in bands with the people who did it best, there's no point in me doing my take on Medway garage. I'm trying to do something a little different. Whether I succeed is for the listener to decide. It may be that you can take the boy out of Medway, but you can't take Medway out of the boy... although I haven't left Medway so that's bollocks to start with."