The Sex Pissed Dolls
Robin 2, Wolverhampton.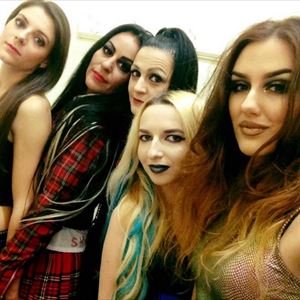 No under 14s in the standing area, 14 - 17s must be accompanied by an adult. No refunds will be given for incorrectly booked tickets.
More information about The Sex Pissed Dolls tickets
+ supports Naked Sunday + Aramathus
Punk, ska & dirty rock music!
Featuring :
Nancy Doll on vocals
Kitty Vacant on guitar
Connie Rotter on guitar
Jilly Idol on bass
Anna Key on drums
The Sex Pissed Dolls are an all female rock band. The five piece band formed late 2014 and like many others started out covering songs they loved. In their first full year (2015) The SPDs embarked on a 50 plus date UK tour aptly entitled ' The Never Needed Bollocks Tour ' playing many prestigious venues up and down the United Kingdom to rapturous reviews. 2015 also saw the birth of " The Dolls Barmy Army (DBA)", an ever growing legion of music loving fans from all over the UK that follow the band far and wide. The DBA have become one big family and even have their own social media page, you can never be alone at a Dolls gig when you are part of the DBA. They make it " More than just a gig, it's an experience"
2016 saw the girls embarking on The Daughters of Anarchy tour within which incorporated a number of festival dates. They were chosen to open the Iconic Isle of White Festival as well as many other headline invitations. Now penning original material and with plans to release their debut album later this year it's going to be another exciting Rock and Rollercoaster twelve months.
The Dolls have very quickly become one of the must see live bands to have emerged in the last 10 years
NAKED SUNDAY
Naked Sunday are a three piece dirty blues rock band based in the Midlands. Formed in 2012, the trio comprises of Martin Stanyer, lead vocals, guitar and piano, Laura Stanyer, on bass and backing vocals, and Craig Stanley on drums. The band are achieving great success, appearing in Kerrang Magazine, Bizarre and Big Cheese. They have also been awarded CD of the month by Ryans Gig Guide. Their music has been played on local radio and BBC Radio in the UK. They have also been featured on, the American station Rockers Dive, with their music reaching New York and Canada.
All three members have been featured in the music video by The Dead Daisies 'Face I Love', as well as performing vocals in the choir on The Darkness song Last of our Kind.

ARAMANTUS
Aramantus is a five piece Progressive Groove Metal band, taking influence from bands such as Iron Maiden, Red Hot Chilli Peppers, Dream Theater, Motley Crue and Judas Priest.
Although our music is influenced by the bands mentioned above, each member has different tastes and influences which we put together to make our material something new and interesting!