The Third Policeman - Miracle Theatre
Hearn Field, Newton Abbot.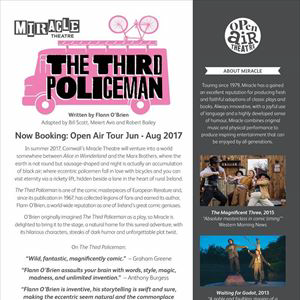 Oen Air Theatre - Please bring your own seating or blanket to sit on, and you are welcome to bring your own drinks and a pic-nic and enjoy this beautiful setting by the river Teign.
More information about The Third Policeman - Miracle Theatre tickets
Written by Flann O'Brien
Adapted by Bill Scott, Meiert Avis and Robert Bayley
This summer Miracle ventures into a world somewhere between Alice in Wonderland and the Marx Brothers, where the earth is not round but sausage-shaped and night is actually an accumulation of black air; where eccentric policemen fall in love with bicycles and you can visit eternity via a rickety lift, hidden in the heart of rural Ireland.