THE URBAN VOODOO MACHINE
Exeter Phoenix, Exeter.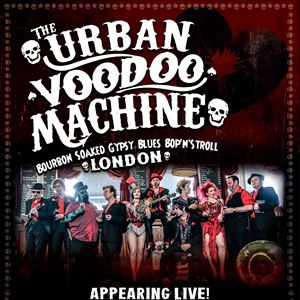 Please use E Ticket to gain entry.
More information about THE URBAN VOODOO MACHINE tickets
THE URBAN VOODOO MACHINE
Playing 'bourbon soaked gypsy blues bop 'n' stroll', The Urban Voodoo Machine are a seven to ten-piece band hailing from Dalston, East London.
In 2002 Paul-Ronney Angel had an idea. He'd lead a band. They'd dress in black and red. There would be a LOT of them. And their music would sound like a great night out in a dangerous part of town. From the get-go, The UVM fused junkyard blues and stinging rockabilly with mariachi horns, fiddles, sinister cabaret and punk rock tangos.
'I wanted to play rock'n'roll music with a different instrumentation,' says Angel, 'taking inspiration from everything from delta blues, latin and gypsy music without losing the spirit and attitude of punk.' His lyrics – part Lemmy, part Bob Dylan – made other (more acclaimed) songwriters sound totally. Damn. Boring.