TOWER OF POWER + Stone Foundation
Manchester Academy 2, Manchester.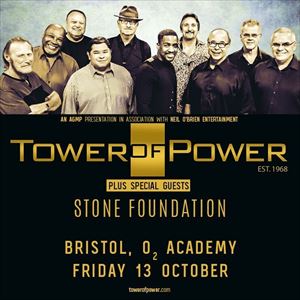 More information about TOWER OF POWER + Stone Foundation tickets
AGMP presents
TOWER OF POWER
+ special guests STONE FOUNDATION
For well close to five decades, Tower of Power have delivered the best in Rhythm and Blues music. Many other bands came out of the San Francisco Bay area in the late 60's. Bands like The Grateful Dead, Jefferson Airplane, Santana, Big Brother, Journey, Cold Blood and others all helped to define the "San Francisco Sound."
After playing at a Tuesday night audition at the Fillmore in 1970, Tower of Power were signed to Bill Graham's San Francisco records and their first album, "East Bay Grease," was recorded. Their next album, "Bump City," led to a string of hits including "What is Hip?", "Only So Much Oil In The Ground", "Squib Cakes", "Back On The Streets Again", "Don't Change Horses", "So Very Hard To Go" & "We Came To Play".
Over the years, the Tower of Power Horns have recorded with hundreds of artists as diverse as Aerosmith, Elton John, Little Feat, Phish, Santana and many others.
Tower of Power are: Emilio Castillo - Tenor Sax / Stephen "Doc" Kupka - Baritone Sax / Francis Rocco Prestia - Bass / David Garibaldi - Drums / Roger Smith - Keys / Tom E. Politzer - Tenor Sax / Adolfo Acosta - Trumpet / Flugelhorn / Jerry Cortez - Guitar / Sal Cracchiolo - Trumpet / Marcus Scott - Vocals.
Special guests tonight are Stone Foundation.
The musical bond between Neil Sheasby and Neil Jones is as concrete as their band name: Stone Foundation. It needed to be to survive over a decade of trial, error and frequent returns to the drawing board before finding the right direction, one that's finally led them to their new album "Street Rituals". Produced by and featuring Paul Weller, its ten tracks realise Stone Foundation's vision of a vibrant modern UK soul band, the kind who can play with the best of the genre's American legends including Bettye LaVette and Stax's William Bell while never losing their own distinctly British identity – the sound of Memphis, via the Midlands.