Voulez Vous - ABBA Tribute
Exmouth Pavilion, Devon.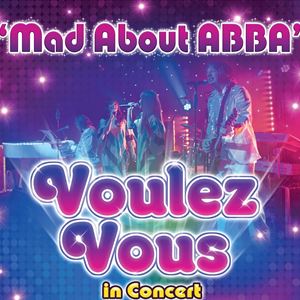 More information about Voulez Vous - ABBA Tribute tickets

It has now been an amazing 25 years since VOULEZ VOUS' humble beginnings. Today they embark upon their 25st anniversary tour for 201718, aptly named, 'Mad about ABBA'!

For more than four decades ABBA really have been
'masters of the scene'! Today, both young and old will instantly recognise the distinctive tunes that have stood the test of time since that unforgettable Eurovision performance
way back in 1974!

VOULEZ VOUS have strived for the last twenty-two years to continue their legacy in recreating the costumes, glamour,
and distinct sound that was ABBA.

Now with members of the original cast involved in the production of the show, their latest tour 'Mad About ABBA', brings to you exciting choreography and an array of new costumes in their ever-expanding 70's glam wardrobe!