Walter Trout Band
Worthing Piers Southern Pavilion, Worthing.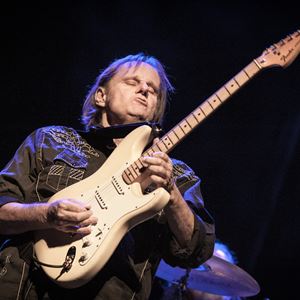 This event is for over 18s only - No refunds will be issued for under 18s.
More information about Walter Trout Band tickets
Guitar virtuoso Walter Trout is considered to be one of the finest blues guitarists in the world. Having been the lead guitarist for Canned Heat, John Lee Hooker and John Mayall's Blues Breakers, he formed his own band in 1989 and has since become a global mega star. If you're a blues/rock fan and have yet to see/hear Walter and his band, don't miss this opportunity……he is truly amazing.
As Walter powers into his 27th year as a solo star, there's no whiff of the creative autopilot that hobbles the later output of most veterans. On the contrary, there's a sense of growing momentum, perhaps even of a little surprise. "It's hard to believe I'm still alive, to be honest," he smiles. "I should have been dead by 30, with the life I was leading. But I still have a career, and at 63, I'm still climbing the ladder, which keeps it exciting, instead of trying to rekindle past glories. I feel like I play with more fire than when I was 25. I'm still reaching, y'know…?"
Trout's rebirth began with a successful transplant in May 2014, and gathered pace with 2015's 'Battle Scars': the acclaimed studio album that channelled his near-death experience into raw autobiographical songs.
A significant title, because the album is about sick-Trout after his successful liver transplant, an album filled with great blues guitar. For all lovers of virtuoso musicians and blues in particular, this is the show you should not miss!
Walters latest album ALIVE in Amsterdam' is the sound of a man announcing his resurrection after a period on the ropes. As Trout's army of international fans are painfully aware, recent times have taken the bandleader to the brink, following a bleak diagnosis of life-threatening liver failure and hepatitis C in 2013.
Yet for this lifelong road-warrior, a return to the stage was always the ultimate goal. And last summer, as Trout headed out on a comeback tour that blew the roof off venues from the Royal Albert Hall to Buddy Guy's Legends club in Chicago, every fan in the house saw that the man wasn't just back, he was better than ever. "That whole tour was kinda triumphant for me," Trout reflects. "Just to be back, after what I went through. But also to be playing with a renewed energy and commitment.
"I'd gone through a few years of symptoms," he continues, "where I'd get hand-cramps, dizzy spells and chronic fatigue onstage. It was a struggle. On this last tour, I wasn't struggling. We were having a great time. We couldn't stop. ''ALIVE in Amsterdam' ' captures the atmosphere."
It's true: listen to 'ALIVE in Amsterdam' and you'll experience the same white-knuckle ride as the fans who filled the Royal Theatre. It's fitting that the Amsterdam show starts with an introduction by Trout's wife and manager, Marie, who gave the bluesman the courage to fight on during his lowest points. "Having Marie on the album is very meaningful for me," he says, "because she's the one who kept me alive. She kept me fighting and wouldn't let me give up."
Support band for the evening will be Sari Schoor (USA)
Tickets available from www.worthingpier.co.uk or the Southern Pavilion Cafe in person
Unreserved seating and standing.
There are pillars that may restrict viewing
Follow us on twitter WorthingPierSouthPav (@WorthingPierPav)www.worthingpier.co.uk
Tickets available from www.worthingpier.co.uk
http://www.seetickets.com/search?q=worthing+pier or the Southern Pavilion Cafe in person during the day or at any of our music events
Unreserved seating and standing The seating will be cabaret style