Women's Roller Derby Sevens
Medway Park Leisure Centre, Gillingham.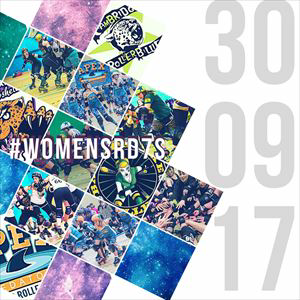 Apex Predators Roller Derby will be joined in a HAMMERhead-to-head CHOMPetition by our CHUMS: Basingstoke Bullets, Cambridge Punt Rockers & Bourne Bombshells!
More information about Women's Roller Derby Sevens tickets
Our last home game sold out, so stay alert! Priority earlyBAIT tickets will be offered to SHARKtators from our last home game, so if you were stuck to your seat like a barnacle when we thrashed the waters against Surrey RG B, you'll get first BITE at tickets for this FINTASTIC event!

Expect our usual sharky fun, with official merch, competitions (Best Dressed Fan, Best Fan Sign- get creative!), prizes and the visual feast that is MCDA Allstars Cheer-Dance-Tumble !
As always with an Apex Predators event, YOU decide the awards! In your free tournament programme, you will be able to vote for the MVPs from each team, PLUS the Tournament MVP! And our incredible announcers, Battered Sausage & Tenacious P will be picking fans from the audience to present the awards, so make sure they see you!

**************** About Sevens *************************

This tournament will be played by four teams of seven skaters. Each game will be short-formatted, lasting 21 minutes with no team time-outs or official reviews, resulting in an even faster pace than your average game, and a test to the stamina of the teams playing!
(It also means more breaks for hotdogs and toilet trips, so very spectator-friendly!)
************** Important Information *******************
In the event that this tournament does not sell out, On The Door (OTD) cash tickets will be £15 (children still free), subject to availability. We strongly advise buying tickets in advance to avoid disappointment!
We have limited space available but wish to do our best to cater for accessibility needs. If you book an accessible seating ticket, please email hello@southerncoedrollerderby.com to alert us of your specific needs, so we can do our best to accomodate you. We advise purchasing your ticket(s) ASAP to avoid disappointment. Accessible seating tickets include seating for up to 1 able-bodied carer. The tournament venue is accessible, but please ask reception or one of our event ushers to escort you.
Please be aware that seating for this event is NOT allocated. There is a mix of tiered seating and matted floor seating areas; please arrive early if you have a preference for seating. Trackside (matted) seating areas are placed around the safety lane, and give the best views of the games, but audience members are advised that they use these areas at their own risk. We advise that younger children do not sit trackside or without a supervising adult. No responsibility will be taken by Southern CoEd Roller Derby for fallen skaters or officials landing on or near audience members- it's considered an rare honour!
Food and drink will be available via the venue caterers, and there is also a cafe upstairs.
For information on our team or event sponsorship packages, please email bettsybruiser@southerncoedrollerderby.com