Womenspire 2017
Wales Millennium Centre, Cardiff.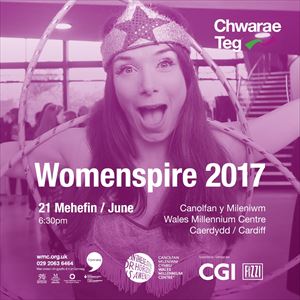 Canolfan y Mileniwm Wales Millennium Centre Caerdydd / Cardiff
21 Mehefin / June 2017
Drysau / Doors 6pm

Tocynnau / Tickets: £35
More information about Womenspire 2017 tickets
A vibrant celebration of women in Wales.
The Womenspire Awards celebrate the achievements of Welsh women from all backgrounds who are doing extraordinary things in all parts of their everyday lives.
Hosted by Shan Cothi, Womenspire recognises women for every aspect of life, from personal achievements to outstanding contribution, and we want you to be a part of these celebrations.
As well as showcasing the finalists from across the Welsh community, we will have performances from inspirational artists, plus appearances by some very special guests.
Join our big celebratory party with fizz, canapes and see incredible performances from youth circus act Organised Kaos; Cardiff's community dance group Rubicon Dance and Egyptian female performer, Dancing Queer and more to be announced
The Categories
Champion of the Year
Leader of the Year
Game Changer of the Year
Woman in the Creative Sector
Rising Star
Community Activist of the Year
Woman in the Rural Economy
Woman in Business/Enterprise
STEM/pioneer
Woman in Education
Learner of the Year
Man of the Year
Employer of the Year
We appreciate your support, and look forward to seeing you there!
For more information please contact womenspire2017@chwaraeteg.com
Visit @chwaraeteg for latest news and updates on our special guests.
------------------------------------------------------------------------------------------
Dathliad egnïol o fenywod yng Nghymru.

Mae'r Gwobrau Womenspire newydd yn dathlu llwyddiannau menywod o bob cefndir yng Nghymru sy'n gwneud pethau anhygoel ym mhob rhan o'u bywydau bob dydd.
Cynhaliwyd gan Shan Cothi, Mae Womenspire yn cydnabod pob agwedd ar fywydau menywod, o lwyddiannau personol i gyfraniadau rhagorol, ac rydym yn awyddus i chi fod yn rhan o'r dathliadau hyn.

Yn ogystal â rhoi llwyfan i'r rhai sydd wedi cyrraedd y rownd derfynol o bob cwr o Gymru, bydd yna berfformiadau gan artistiaid ysbrydoledig ac ymddangosiadau gan ambell i westai go arbennig.

Ymunwch yn y dathlu i anrhydeddu menywod anghredadwy Cymru a mwynhewch perfformiadau gan Organised Kaos, Dawns Rubicon, Dancing Queer a mwy...
Y Categoriau
Pencampwr y Flwyddyn
Arweinydd y Flwyddyn
Llwyddiant ym Myd y Campau
Menyw yn y Sector Creadigol
Seren Ddisglair
Gweithredwraig Gymunedol y Flwyddyn
Menyw yn yr Economi Wledig
Menyw ym maes Busnes/Menter
STEM/arloeswraig
Menyw mewn Addysg
Dysgwr y Flwyddyn
Dyn y Flwyddyn
Cyflogwr y Flwyddyn
Rydyn ni'n gwerthfawrogi'ch cefnogaeth, ac edrychwn ymlaen at eich gweld chi yno!

I gael mwy o wybodaeth, anfonwch e-bost i womenspire2017@chwaraeteg.com
Ewch i @chwaraeteg ar gyfer y newyddion diweddaraf a gwybodaeth am ein gwesteion arbennig.