A Tale of Two Cities
Regent's Park Open Air Theatre, London.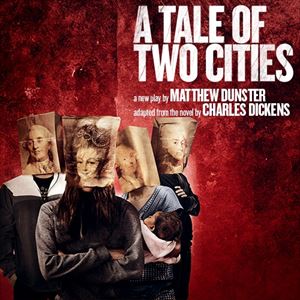 More information about A Tale of Two Cities tickets
A TALE OF TWO CITIES
A new play by MATTHEW DUNSTER
Adapted from the novel by CHARLES DICKENS

"It was the best of times, it was the worst of times; it was the age of wisdom, it was the age of foolishness;
it was the spring of hope, it was the winter of despair; we had everything before us, we had nothing before us"

Sound familiar? How much more do those in power think Europe's poor can take? When will the people take to the streets of the cities and roar enough is enough?

"in short, the period was so far like the present period"

Weather Policy
The auditorium and stage are completely uncovered. We will make every effort to complete the performance and reserve the right to stop and start the action as necessary. Performances are never cancelled or abandoned before the advertised starting time and then only in the event of very bad weather. If cancellation or abandonment is unavoidable, ticket holders will be entitled to equivalent seats for any other performance in the main season (excludes comedy and music events), subject to availability. Music and Comedy events (which are one-off events and not part of the main repertoire) take place regardless of weather conditions.
Refunds are not given for cancellation or abandonment as a result of the weather
For a customer wishing to exchange:
Make sure you have your tickets. These need to be the original tickets you were issued with but it doesn't matter where you purchased your tickets from. At the theatre, we provide weather exchange envelopes or you can use your own. Include details with your tickets of your preferred exchange date and then you can:
- Hand this to a member of staff at the performance
- Bring it to the box office in person
- Send it to the address below
Alternatively, fill in the online weather exchange form at www.openairtheatre.com and post the tickets to:
Weather Exchange, Regent's Park Open Air Theatre, The Ironworks, Inner Circle, London NW1 4NR
On receipt of these tickets the box office will post or e-mail your new tickets to you.
Please note that all exchanges are for equivalent seats and subject to availability. All tickets are sold subject to our terms and conditions which includes a section on the weather. We do not give refunds for performances which are not completed because of bad weather
Full terms and conditions including the weather policy are at www.openairtheatre.com
Please note that the contemporary framing of this production includes the use of very strong language.