Terrible Infants
Wilton's Music Hall, London.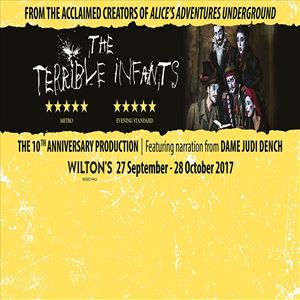 More information about Terrible Infants tickets
Don't miss the award-winning Les Enfants Terribles (Alice's Adventures Underground, Dinner at the Twits, The Game's Afoot and The Vaudevillains) as they bring their acclaimed original show to the magical surroundings of Wilton's Music Hall. Based upon a series of twisted tales, and featuring narration from Dame Judi Dench, The Terrible Infants is a fantastic spectacle blending puppetry, live music and story-telling into a highly sensory theatrical feast! Meet Tumb, the boy who eats his mum, Thingummyboy, with a face even his mother forgets, Little Linena, the material girl and of course little Tilly and her terrible tail. Roald Dahl meets Tim Burton in this hugely theatrical, funny, sad, silly, junk-filled, puppetry packed, dark, delicious, magical piece of performance. This unforgettable 10th anniversary production follows the huge success of the Olivier Award-nominated Alice's Adventures Underground.