Dave Gorman Tickets
DAVE GORMAN
is rated out of
5
by
9
.
More Information about Dave Gorman Tickets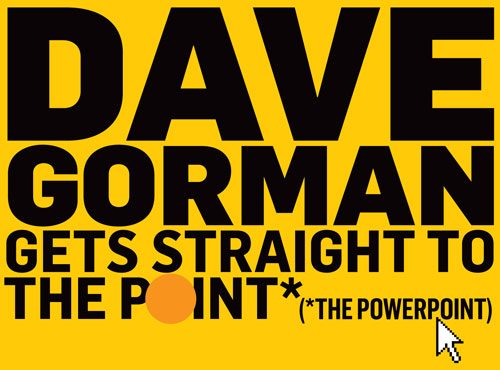 Dave Gorman Gets Straight To The Point* (*The PowerPoint)
The wonderfully innovative comedy mind behind Modern Life Is Goodish (Dave TV), Are You Dave Gorman? and Googlewhack Adventure is back with a brand new live show that promises more of his unique blend of stand-up comedy and visual story-telling as Dave Gorman Gets Straight To The Point*... (*The PowerPoint).
Yes. That's right. It's a PowerPoint presentation. We know what you're thinking. But don't worry. as this all-new show follows the phenomenal success of his critically-acclaimed UK Tour, Dave Gorman's Powerpoint Presentation, which included a sold-out 5-night run at London's Southbank Centre, we think you're in pretty safe (and funny) hands. You won't need to take notes and you almost certainly won't be tested on it later.
'.has transformed the seemingly mundane into hours of unabashed hysteria.' Metro
What people are saying about Dave Gorman
Rated

5

out of

5
by
philw
from
Comedy at its finest
Dave Gorman's always been one of my favourite comedians, but this was the first time I'd seen him live. And I wasn't disappointed. Witty, clever and sometimes outrageous comedy that had me in stitches from first to last. Even the support act, Nick Doody, was brilliant. A wonderful night.
Date published: 2016-01-23
Rated

5

out of

5
by
Munkeyjim
from
Really funny, great support too.
Really enjoyable night. Lots of funny observational comedy and some brilliant poetry.
Date published: 2016-01-29
Rated

4

out of

5
by
Megadave
from
Haven't laughed so much in a long while!
I purchased my tickets to this show as a present for my girlfriend nearly 2 years ago now (the show was rescheduled whilst Dave enjoyed being a new father!) I knew relatively little of Dave's previous work but my partner is a fan - I went with little expectation but was very pleasently surprised! The warm up act was good (if a touch on the long side) and Dave's set was excellent. At times I had tears from laughing so hard! I'd definitely go again and plan to work through the Dave Gorman back catalogue now!!
Date published: 2016-01-29
Rated

5

out of

5
by
Philb56
from
Dave Gorman at his best
Saw Dave Gorman a couple of years ago, thoroughly enjoyed it amd so my wife amd I decided to go again. Nick Doody, his support act, was great and they had a good rapport with each other. Dave had everyone laughing all through his performance but the piece de resistance was his final Found Poem with Nick accompanying him on piano - hilarious! Concert was great value for money.
Date published: 2016-02-04
Rated

5

out of

5
by
MAH
from
Great night, great powerpoint.
I took my brother for his birthdays, we've both been fans since we heard of googlewack, Dave did not disappoint at all! He was just brilliant, Nick Doody was awesome as well, I'd happily go pay to see him in a show of his own one day!
Date published: 2016-02-02
Rated

5

out of

5
by
Govagg
from
Three hours of great entertainment
A surprise trip for my Daughter as she's loved all his television work. Certainly didn't disappoint. It followed the same format as the Modern Life is Goodish tv shows and was packed with Dave's comic genius from start to finish.
Date published: 2016-02-01
Rated

5

out of

5
by
Jana_bubbles
from
Funniest show I've seen in ages
Such a funny show. Didn't know that there will be support act which was a welcome bonus. The only thing i would put on negative was the venue itself. The seats were not comfortable and it all looked really run down.
Date published: 2016-02-01
Rated

5

out of

5
by
Aligubbs
from
Very, very funny
Both Dave and his warm-up Nick Doody were hilarious. He even managed to make me love my husband more, now I know which spoke I'm on...
Date published: 2016-01-26