More Information about Suggs My Life Story in Words and Music Tickets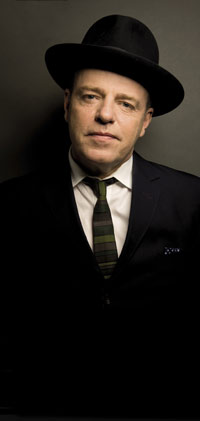 Suggs
MyLifeStory
in words and music

I've just turned 50, the kids have left home, and my cat just died.

Suggs My Life Story in words and music hands you an access-all-areas backstage pass
to the Madness frontman's mind as he attempts the dare-devil stunt of
single-handedly unraveling the mysteries of his own life.

Join him on an emotional rollercoaster through the ups and downs of an
astonishing thirty-year career spanning pop music, radio, television, film...
and the pie and mash industry.

Witness him cannon ball to the heights of pop success, stumble and
plummet down through the trap door of failure, and then trampoline
back up to catch the passing trapeze of showbusiness success.

WITH MUSICAL ACCOMPANIMENT AND POINTLESS INTERJECTIONS
FROM HIS LOYAL, PIANIST -COME -MANSERVANT.

"It's often very funny, and is delivered with a sense of timing and phrasing that many common-or-garden comics could learn much from" - Dominic Cavendish, The Daily Telegraph
What people are saying about Suggs My Life Story in Words and Music
Rated

5

out of

5
by
SJG
from
Not to be missed!
An amazing story and extremely well-told! Suggs' life story has everything - romance, comedy and tragedy. He is a fabulous performer, both as a singer and as a raconteur, and this was a fascinating evening. Heartily recommended!
Date published: 2016-05-06
Rated

2

out of

5
by
cw
from
Unclear start time on ticket
I went to this gig and the ticket said door open at 7.30 Normally door open do not mean gig starts at this time but in this case we found doors opened at 7 and gig started at 7.30. Lost 20 minutes of gig so very dissapointed.
Date published: 2016-05-02
Rated

5

out of

5
by
Bosher
from
Absolutely fantastic show
Went to see suggsy doing his show about his life it was brilliant i havent laughed so much in ages suggsy is a genius and if he hadnt been a quality artist he could have been a stand up comedian hes a natural best show ever
Date published: 2016-04-25
Rated

5

out of

5
by
Andy C
from
What a legend
After reading the book I was expecting the same stories but the humour and variety along with the occasional song made this so much better than I even expected. Amazing showman and all round top bloke.
Date published: 2016-04-29
Rated

5

out of

5
by
daffy
from
suggs show
went with wife ,great seats .GREAT LEGROOM !!! as a big person really appreciated .lovely bar area .VERY HELPFUL receptionist . great acoustics . can't wait to come again !!!
Date published: 2016-04-25
Rated

5

out of

5
by
Gareth_C
from
Great evening with Suggs
Had a most entertaining evening with Suggs in Bath. Suggs is an exceptional story teller and has many tales to tell of his life and year's in the band Madness.
Date published: 2016-05-08
Rated

5

out of

5
by
nutty7
from
Suggs Macpherson
Came over from Ireland to Liverpool to see Suggs putting on a top show,great crowd there who really enjoyed him
Date published: 2016-05-04
Rated

1

out of

5
by
Mygirl2
from
Suggs - Worcester Huntingdon Hall 29/4/16
Went to the one man show, he was drunk and slurred throughout the performance. Rubbish avoid this has been !
Date published: 2016-05-02