Select a date
Monday
Tuesday
Wednesday
Thursday
Friday
Saturday
Sunday

1

Hounslow

Hounslow Art's Centre, Hounslow

Contact venue for tickets

5

The Boy With Tape On His Face Is Tape Face

Exeter Corn Exchange, Exeter

6

Great Torrington

The Plough Arts Centre, Great Torrington

Contact venue for tickets

7

Great Torrington

The Plough Arts Centre, Great Torrington

Contact venue for tickets

8

The Boy With Tape On His Face Is Tape Face

The Point, Hampshire

10

The Boy With Tape On His Face Is Tape Face

Nottingham Arts Theatre, Nottingham

11

The Boy With Tape On His Face Is Tape Face

Harrogate Theatre, Harrogate

12

The Boy With Tape On His Face Is Tape Face

The Royal Spa Centre, Leamington Spa

16

The Boy With Tape On His Face Is Tape Face

Performing Arts Centre, Lincoln

17

The Boy With Tape On His Face Is Tape Face

Derby Guildhall Theatre, Derby

18

The Boy With Tape On His Face Is Tape Face

Carriageworks, Leeds

19

The Boy With Tape On His Face Is Tape Face

Epstein Theatre, Liverpool

20

The Boy With Tape On His Face Is Tape Face

Tyne Theatre & Opera House, Newcastle

1

The Boy With Tape On His Face Is Tape Face

Wulfrun Hall, Wolverhampton

2

The Boy With Tape On His Face Is Tape Face

Chorley Little Theatre, Chorley

4

The Boy With Tape On His Face Is Tape Face

Wrexham Uni Catrin Finch Centre, Wrexham

5

The Boy With Tape On His Face Is Tapeface

The Y, Leicester
More Information about The Boy With Tape On His Face Tickets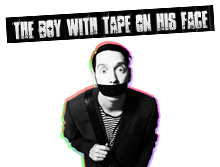 What people are saying about The Boy With Tape On His Face
Rated

5

out of

5
by
jfcalcerrada
from
Brilliant performance, silly humour but with an unique style
I loved it. The humour is bit silly, but how he performs it, how he puts everything together is brilliant. My friend and I laughed several times for few minutes non-stop.
Date published: 2016-09-28
Rated

5

out of

5
by
Debbie15K
from
Certainly didn't come unstuck!
Although I'd seen The Boy with Tape on His Face once on TV quite a few years ago and saw his America's Got Talent audition on You Tube recently, I still wasn't sure how good the evening's entertainment was going to be. As it turned out, it was brilliant! My face hasn't ached so much in ages. Tape Face certainly took the term "audience participation" to a whole new level and with his ingenious and inventive use of props and music provided an evening of great hilarity. I would definitely book to see him again!
Date published: 2016-09-25
Rated

4

out of

5
by
xiaofang
from
Great, creative & lot of fun
We really enjoyed this show with its improv and character and audience participation
Date published: 2016-09-25
Rated

5

out of

5
by
Annette
from
Fun Night Out
Wasn't really too sure what to expect to be honest as hadn't seen any previous performances but what a fun night out we had. It was genius. Would highly recommend. Looking forward to the next tour already!
Date published: 2016-09-20
Rated

5

out of

5
by
Dhudz
from
Extremely funny!!!
Brilliantly funny act. He is like a bored child with a box full of toys. Crazy innovative and incredibly entertaining worth the ticket price
Date published: 2016-09-22
Rated

5

out of

5
by
eEYUun
from
Unique!
He draws you into his wierd world so cleverly! It will stay with me for a very long time. Americans obviously don't get him!!
Date published: 2016-09-23