No seats available for this day

No seats available for this day

No seats available for this day

No seats available for this day

No seats available for this day

No seats available for this day

No seats available for this day

No seats available for this day

No seats available for this day

No seats available for this day

No seats available for this day
More Information about Suggs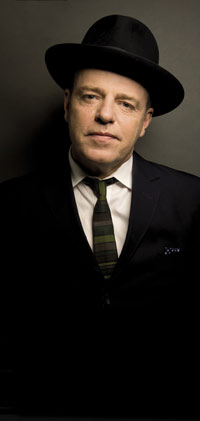 Suggs
MyLifeStory
in words and music
I've just turned 50, the kids have left home, and my cat just died.
Suggs My Life Story in words and music hands you an access-all-areas backstage pass to the Madness front-man's mind as he attempts the dare-devil stunt of single-handedly unravelling the mysteries of his own life.
Join him on an emotional roller coaster through the ups and downs of an astonishing thirty-year career spanning pop music, radio, television, film... and the pie and mash industry.
Witness him cannon ball to the heights of pop success, stumble and plummet down through the trap door of failure, and then trampoline back up to catch the passing trapeze of show business success.
WITH MUSICAL ACCOMPANIMENT AND POINTLESS INTERJECTIONS FROM HIS LOYAL, PIANIST -COME -MANSERVANT.
"It's often very funny, and is delivered with a sense of timing and phrasing that many common-or-garden comics could learn much from" - Dominic Cavendish, The Daily Telegraph
What people are saying about Suggs
Rated

5

out of

5
by
Taziali
from
Suggs at the Lowery Manchester
I went to this with a friend, what a fantastic night, couldn't wait for the intermission as my jaw was aching so much with laughing, so funny, we waited at the stage door what a genuine guy, so nice with everyone even though you could see he was shattered, can't wait for my nxt Suggs adventure !
Date published: 2018-02-16
Rated

5

out of

5
by
Jacsdavies
from
Husband Valentines gift
It was absolutely brilliant, what a star SUGGS is and what a life! We laughed we cried!!! Perfect evening x
Date published: 2018-02-15
Rated

5

out of

5
by
Binnie
from
Fantastic
Went with hubby and friends,what a great night.What a show SUGGS was great .
Date published: 2018-02-14
Rated

5

out of

5
by
ChelseaJon
from
Suggs - still up there with the best
From start to finish this was a brilliant event. To keep an audience interested, laughing and smiling for so long is a huge credit to Suggs - Well Done....and what a great life as well. I had a few apprenticeships similar so can really relate to the fun and laughter they must have had...and then they formed a band called Madness and conquered
Date published: 2018-02-12
Rated

5

out of

5
by
Big Dog London
from
Gladness, sadness & Madness!
Top night at a great venue. Suggs is a natural raconteur and very comfortable on stage. It was an interesting & highly entertaining insight into his life in the music business and how his family background formed his life.
Date published: 2016-07-25
Rated

5

out of

5
by
Gareth_C
from
Great evening with Suggs
Had a most entertaining evening with Suggs in Bath. Suggs is an exceptional story teller and has many tales to tell of his life and year's in the band Madness.
Date published: 2016-05-08
Rated

5

out of

5
by
SJG
from
Not to be missed!
An amazing story and extremely well-told! Suggs' life story has everything - romance, comedy and tragedy. He is a fabulous performer, both as a singer and as a raconteur, and this was a fascinating evening. Heartily recommended!
Date published: 2016-05-06
Rated

5

out of

5
by
nutty7
from
Suggs Macpherson
Came over from Ireland to Liverpool to see Suggs putting on a top show,great crowd there who really enjoyed him
Date published: 2016-05-04